When you start building your first marketing strategy, all you think of is how to get new customers.
You hardly think of how to attract bigger customers specifically. All you want is to attract more people who might be interested in your product or service.
Time passes and you notice that it takes you a lot of effort to convert and serve new customers, yet your profits grow rather slowly.
So, what are you doing wrong?
One of the possible explanations – you're failing to attract high-ticket customers!
And you aren't alone. 40% of businesses miss their revenue targets. Interestingly, the same report shows that only 21% of underperforming organizations are aiming to increase the average sale price for deals.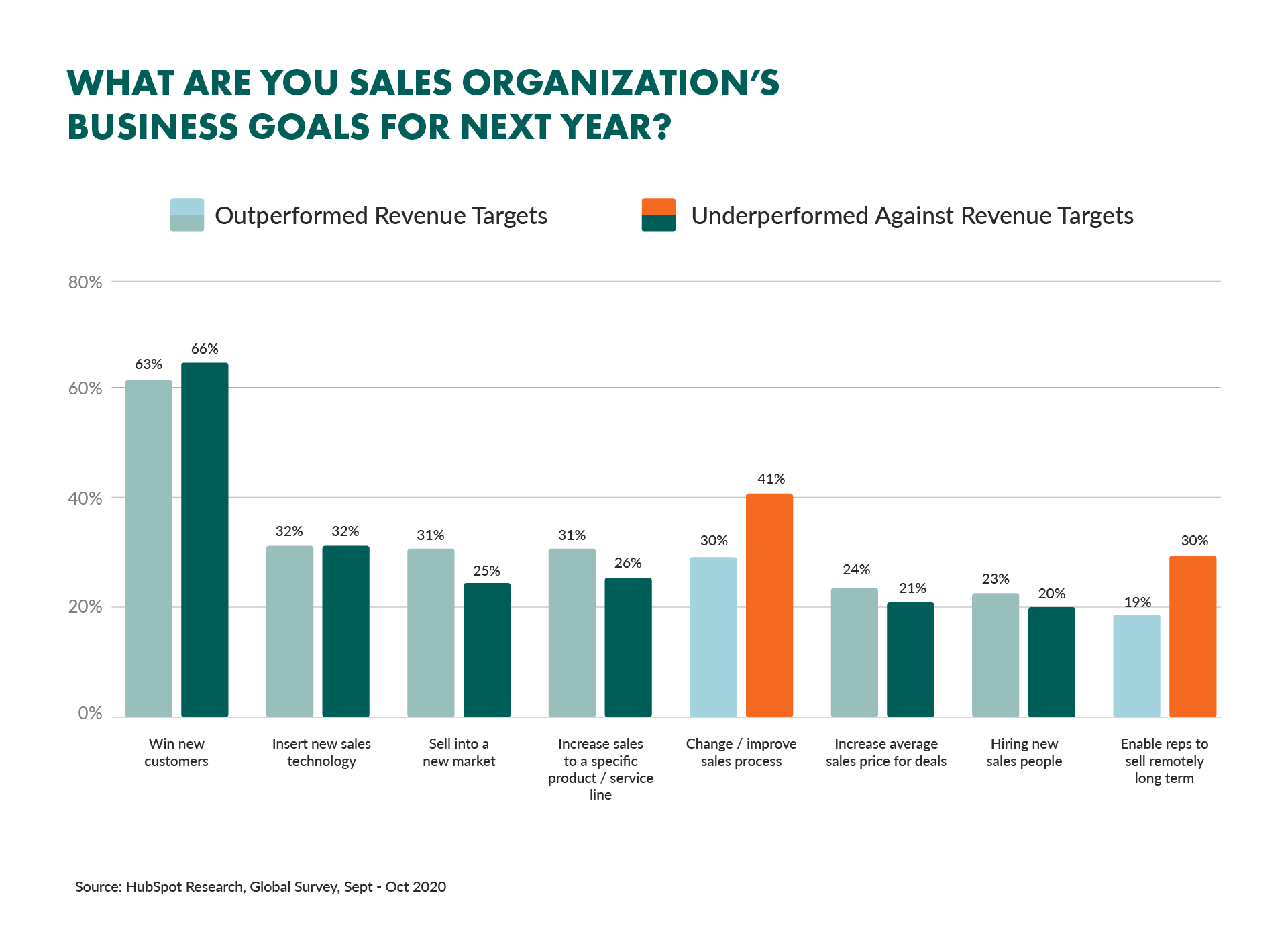 To close larger deals, you need to revisit and adjust the whole business strategy – from brand positioning to marketing and sales campaigns.
Let's explore 10 actionable strategies for attracting and winning high-ticket customers.
But, before we dive deeper, let me stress this: a low-ticket customer isn't a bad customer! It just might not be the right fit for your business growth ambitions.
High-ticket vs. low-ticket customers
There are two different business models that require you to choose between generating few high-ticket sales or driving many low-ticket conversions.
Different models imply different approaches to presenting your product or service.
When focusing on low-ticket customers, you price your products/services moderately and use the cost as one of the key competitive advantages of your offer.
The situation with high-ticket customers is different.
Let's consider this example.
Say you run a SaaS business. Instead of attracting, converting, and supporting 20 customers that will pay €1,000 each year, you can work with just 2 that pay €10,000 and still have the capacity to onboard many more high-ticket customers. What can possibly go wrong?
In the first scenario, if you lose one customer, you'll be down to €19,000 per year. The second model is less safe – after one customer bails, you'll have only €10,000 per year.
However, having a working setup that delivers quality leads regularly will allow you to reduce risks and focus on growing your business steadily.
10 ways to land high-ticket customers
If your company is aiming to target higher-revenue customers, then you need to tweak some of your typical behaviors and activities. Here are a few strategies that will help you land the customers that pay more.
1. Identify your best prospects
It's you who defines the type of prospects that will be interested in your company's offering.
Your marketing and sales strategy will completely depend on the type of people you want to reach with your campaigns. Therefore, it's crucial to build ideal customer profiles (ICP) before taking any action to attract high-end prospects.
Revisit and build up new high-ticket customer profiles by answering the following questions:
What's the size of my ideal customers' company?
What position does your point of contact occupy?
What are the key pain points of companies of this type?
How many stakeholders usually take part in the decision-making process?
Why would they choose your solution and not use internal resources to solve their problem?
How experienced are they in the topic? Would they need additional guidance?
Now, with a clearly defined customer profile, you can build campaigns that are focused on the needs and priorities only a high-ticket customer might have.
2. Target your ideal prospects in your content
It's tempting to appeal to broad audiences with your marketing campaigns.
It might seem that the more people you reach, the more customers you'll get. In fact, everything is exactly the opposite.
Running a blog? Always pay attention to the interests and needs of your ideal buyer personas. In fact, a Forrester research showed that 63% of buyers ignore the content that isn't relevant to their needs, their industry, and their role!
For example, if you've figured out that your target audience is highly experienced in the subject or product, don't waste your time creating "how-to" guides for beginners.
While narrowing your campaigns down to a very specific niche will limit your reach, you'll be able to convey messaging that resonates with those few C-level experts who have the highest potential to become your best paying customers.
3. Focus on building your brand
It's likely that when going to the higher level, you'll face competitors different from your usual lot.
There are big brands serving enterprise-level companies that aren't after lower prices.
These brands have earned trust in the niche and appeal to high-paying audiences with their brand reputation.
To win the competition for the attention of these audiences, you need to establish a strong brand.
Consistent branding across digital channels increases revenue by 23%. However, only 15% of companies can say they have a strong brand presence.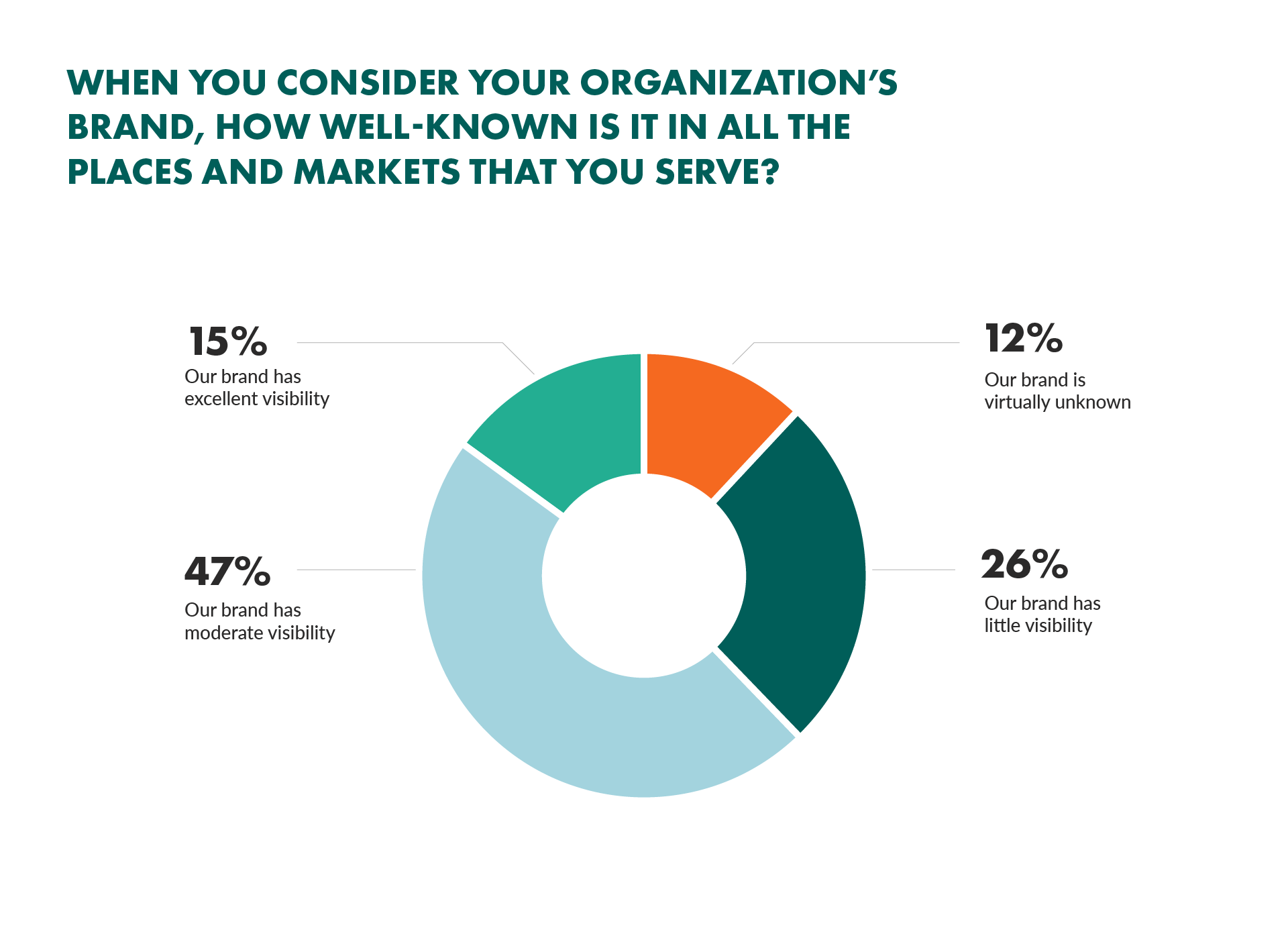 Today, almost every B2B company has a beautifully designed website, which means your ability to present what you offer in the best possible way doesn't affect prospects' decisions much anymore.
Instead, 81% of customers say they need to trust a brand to make a purchasing decision.
What matters is keeping a consistent brand image. To achieve it, follow these steps:
Develop your brand voice.
Create memorable brand identity elements.
Convey your values in your content.
Show employee appreciation.
4. Display top customers' logos and share customer studies
Whether you work with low-ticket or high-ticket customers, social proof always matters.
Let your existing and past customers speak to the quality of your products or services. One of the easy ways to offer social proof is to display your customers' logos on your website.
While it often takes much time and effort to get enterprise customers to leave a genuine testimonial on a customer review platform or even share a brief quote you could feature on your website. But it's way easier to get permission to display their logo on your site, right?
As an example, Voices.com managed to increase conversion rates from 5% to 22% by placing their customers' logos on the company website.
Another way is to share case studies. They allow you to walk your prospects through a business success story they can relate to.
Today, 20% of B2B marketers are confident that case studies help them generate leads that convert. Quality case studies are able to show your prospects that your product or service has successfully offered value and improved your buyers' business.
Promote case studies across your website, use them to boast on social media, and link to them in your sales outreach emails – it's never too much when it comes to a good success story.
5. Use a contact form to filter out irrelevant leads
Remember that you get to choose whom you want to work with. This means – don't be afraid to miss low-ticket leads when prioritizing high-paying prospects.
The best way to quickly identify whether a lead might become your ideal customer is to add a qualifying step to your contact form.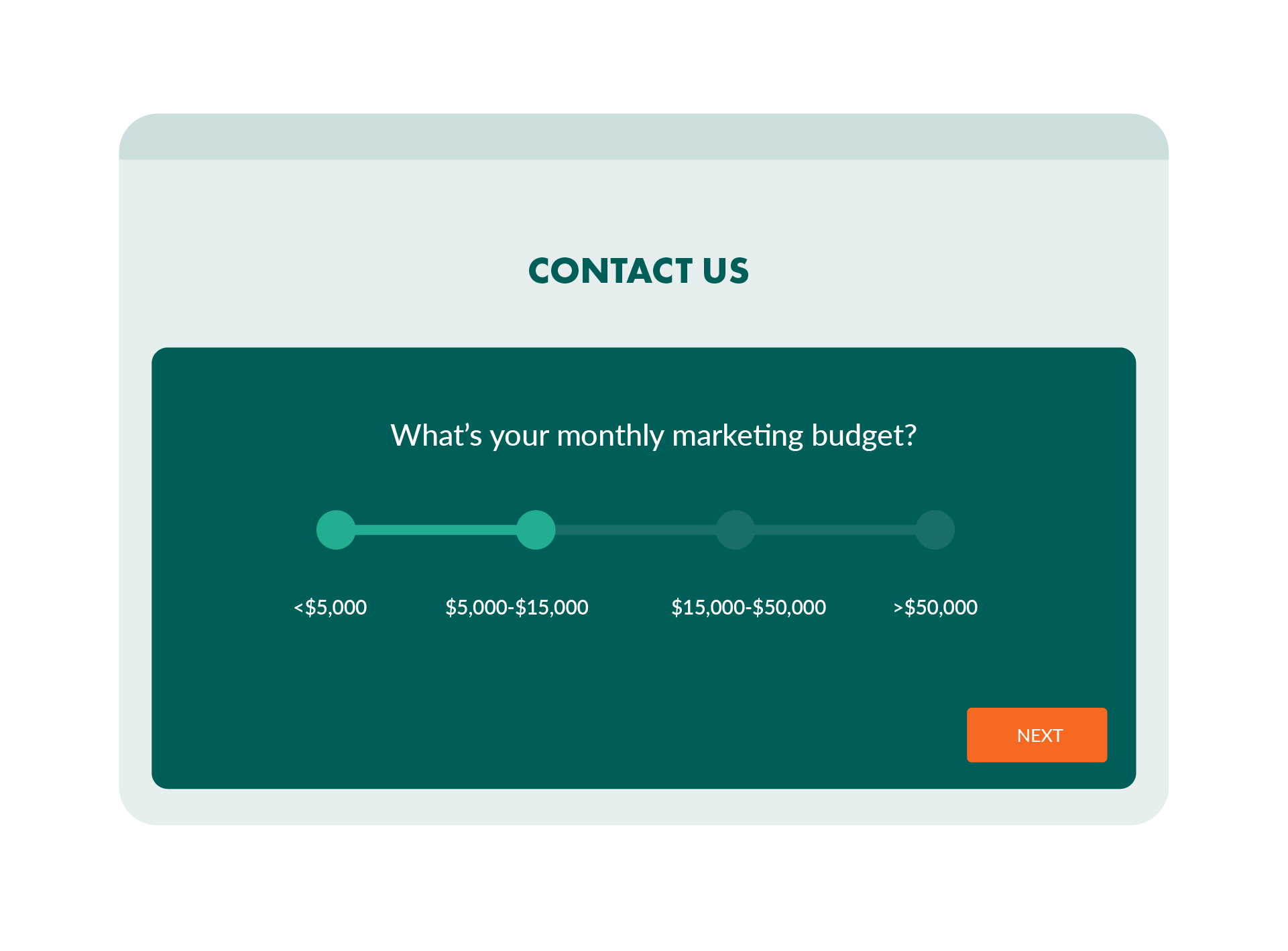 What is it that matters to you the most: company size, number of employees, or their marketing budget? Include this question in your form and you'll know whether they match your "high-ticket" ICP.
6. Score leads
When you receive the first pieces of data on your leads, use it to score and prioritize incoming submissions.
The golden window for following up with a new lead is 5 minutes. If you fail to get back to your prospects within this timeframe or at least in less than an hour, you risk losing your high-end customers to a more nimble competitor.
But how do you catch up with everyone immediately when you have dozens of submissions every day? The best way to do it is to have a set of criteria for qualifying leads automatically or a powerful CRM tool.
Typically, the following factors can tell whether a prospect is the right fit for your business or not:
Company industry
Company size
Contact's role
Company location
The problem they're facing
The relevant questions can be included in your lead generation forms.
7. Do sales outreach
I'm just going to admit it. Marketing can't do it alone without the help of sales.
Generating high-ticket B2B leads with a just website isn't an easy task. The vast majority of site visitors and even leads won't meet your ICP.
Only 7% of marketing leads can be characterized as "very high quality". People reading your blog or requesting your eBook are rarely decision-makers. That's why sales outreach should take a key place in your business strategy if you want to land high-end customers.
By being proactive with sales outreach, you can speed up the process and choose companies you want to work with. You can either find relevant companies manually or use LinkedIn Sales Navigator to quickly get a list of people and companies that meet your criteria.
LinkedIn's InMails earn a 10-25% response rate, which is 3x higher than email campaigns.
A word of advice: Don't drag your communication with prospects over LinkedIn or email for too long. Offer them to schedule a call right in your first outreach message.
8. Build a professional-looking proposal template
On the one hand, building a sales proposal from scratch every time you negotiate with a new prospective customer is incredibly time-consuming.
On the other hand, you don't want to lose a customer to a poorly designed generic proposal template that will fit everyone (and, also, no one).
The solution is simple – design a template where your company and its vision are briefly introduced and leave blank space for filling in a customized proposal that addresses the needs of the specific prospect.
You might also want to use one of the templates below to start with:
Typically, when you send out a proposal, you have a good understanding of the potential customer's challenges and goals. So, focus on this information and tell how your company is going to drive them closer to reaching their objectives. Don't just lay down a dry list of services or awesome product features you're going to provide.
9. Build knowledge to close high-ticket customers
When talking to low-ticket and high-ticket customers, you'll need to look at their problems from different angles.
While low-ticket prospects would focus on getting things done for the lowest possible price, the high-ticket prospects won't compromise the quality of the product or service they want to get at any cost.
Also, high-end prospects want to make sure they work with professionals, so show them you deeply understand the problems enterprise-level companies encounter and be proactive with offering a solution.
Always do thorough research of the topic before a sales call. Even if you have never worked with a company in a specific niche, it's important for you to be the person who sets the agenda and controls the call from the very beginning.
10. Train your sales team to be brand ambassadors
Very few high-ticket prospects, if any, will be ready to purchase from you after just seeing your marketing materials. The vast majority will be convinced (or not) by your salespeople.
That's why your sales representatives should share your values and brand voice! If you fail to train your employees to speak your brand's language, all the efforts you've taken to build a consistent image would make little sense.
To turn your sales team into real brand ambassadors, have your communication strategy documented, schedule regular workshops, and encourage people to speak up and share their perspectives of your brand values.
Conclusion
Pursuing high-ticket customers isn't all about increasing prices.
It's way more than that!
You need to provide real value to big customers – through brand building, proactive outreach, and prioritization. On your way to winning high-ticket deals, you'll need to lose a lot of low-ticket opportunities – that's the cost of aiming for a bigger chunk of revenue, but it's worth it.
Whether your company chooses to pursue a high- or low-ticket customer, you'll want to support your teams to offer great experiences, both in sales and in customer service. Want to learn more about how SuperOffice CRM solution can help you do that?
Then book a demo today!