We put the R in CRM
The relationships you build today determine how you'll grow your business tomorrow. We've been helping businesses build strong, profitable customer relationships for 30+ years. Ready for a CRM that helps you work smarter, build stronger bonds, and achieve more?
Sustainable relationships – not temporary transactions
It's 5x more expensive to find a new customer than to upsell to an existing one. So, why wouldn't you invest in making sure those customer relationships are sustainable? Something that will grow and keep benefitting everyone involved, year after year
SuperOffice CRM is built to do just that.
All the tools you need in one place
Sales, Marketing and Customer Service teams all using different tools? It's time for a smoother solution. One database, hundreds of applications – that's SuperOffice CRM!
Designed to help you build profitable relationships
Shared view

SuperOffice CRM gives everyone in your organization a 360-degree overview of all ongoing or planned activities and communications with a specific customer, making collaboration across teams easier than ever.

A flexible system

Depending on your current or evolving needs, you can choose either one or multiple products, be it sales, marketing or service. You can be flexible with your SuperOffice CRM and expand it as your business grows.

Process support

SuperOffice CRM supports all key sales, marketing and customer service processes, so that you can optimize them to match your customers' unique journey to your brand.

Built-in intelligence

SuperOffice CRM is equipped with AI functionality that helps your teams to do more with customer and prospect data, by acting faster, communicating better and generating more impact.

Customer engagement

SuperOffice CRM offers a Customer Engagement Platform that consists of several tools for building various self-service options for your customers – ensuring that you deliver great customer experiences 24/7.

Personal productivity

SuperOffice CRM provides efficient work tools for customer-facing users to execute their daily, repetitive tasks, increase their productivity, and seamlessly collaborate with colleagues by easily sharing documents, diaries, emails, projects, and much more.
Turn every relationship into an opportunity
Every relationship is an opportunity – whether it's a marketing touchpoint, sales call, or service ticket. SuperOffice CRM helps you turn them into business results.
30+ YEARS OF CRM EXPERTISE
We've been helping European companies grow and prosper for a long time. Why? Because it's what we love, and what we do well! That's why our customers rate us so highly:

Start turning relationships into revenue with SuperOffice CRM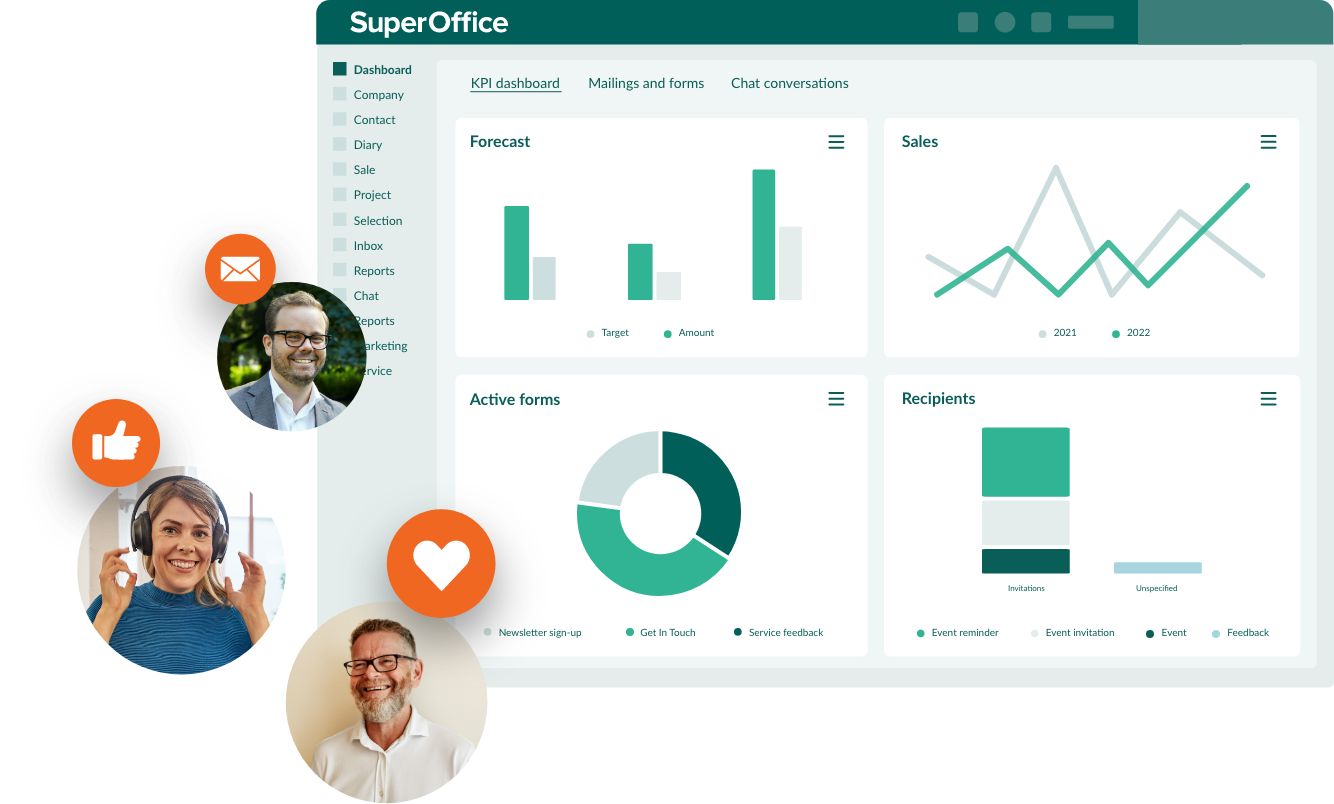 Need more inspiration to grow your business with CRM?
Sign up to our quarterly newsletter and get original content filled with practical insights. Let's start growing your business and turning relationships into revenue!