Post summary for sales prospecting tips:
Schedule time to prospect
Focus on your target market
Use social selling to find new customers
Prospecting is hard.
But, it's not easy.
Lead generation and getting enough high quality leads to fill your sales pipeline has, and always will be, an ongoing challenge.
And although the marketing department is tasked with generating leads for sales, it doesn't mean that sales should stop their own sales prospecting efforts and wait  for the leads to come pouring in.
Although inbound marketing and marketing automation  have gone a long way in helping to generate good leads for businesses, sales still has to embrace the traditional way of prospecting and self-generate leads at the same time.
7 sales prospecting tips
This blog post lists 7 sales prospecting tips to inspire your day.
1. Book time in your calendar to prospect every day
Just as you would block a consistent time in your calendar for your workouts every day, it's just as important to book a consistent time in your calendar to prospect every day.  Unless you've won the lottery, leads just don't fall into your lap.  You've got to pick up the phone for something to happen.  And since prospecting isn't always the most fun of activities, booking this time with yourself will go a long way in ensuring that this activity happens on a regular basis.
2.  Find and focus on your target market
It's a big ocean out there.  There are different types of people, industries and company sizes.  You can't boil the ocean all at one time, so where should you start first?
Take some time to find out what your ideal customer profile looks like and do some research in your own database.  Who are your top five customers?  Who are your worst five customers? Who are your most profitable customers?  Which ones are the least? Create profiles for each of these groups. Don't assume that just because a company is in your database that they are fit your ideal customer profile.
Once you have done this homework, you can use both the profile and your existing company list to find other businesses which match these criteria.  This tactic will help you to stay focused on the best fish in the sea.
3.  Actively work your call lists
You've got the warm call list and the warm lead list, and even a lost lead list.  Prioritize each list and then take some time each day to call the people on your list. See where they are in their decision process.  Are there any questions that they have?  Is there any information that you can send them?  Invite them to a webinar or seminar that you're hosting.
Call to touch base again in 6 weeks or 6 months.  It's all about keeping in touch and top of mind.  By working the list consistently, you'll be able to turn warm leads to warmer leads and then hot leads.
4.  Ask for referrals
Nothing is better than a happy customer because happy customers spread the happy word.
In a 2003 Harvard Business review article, "The One Number You Need to Grow", it was quoted that "the value of any one customer does not reside only in what that person buys. In these interconnected days, how your customers feel about you and what they are prepared to tell others about you can influence your revenues and profits just as much."
The best time to ask for a referral is immediately after the sale is made because this is when the experience of the sale is still fresh in the customer's mind.  His enthusiasm, excitement and good will (if the experience was good) will show through. (Tip: Create an email template and then use this each time you make a sale).
It's also important to keep in touch with your existing customers to ensure that they are still happy with your product/ service and with your company.  Remember to send them a birthday greeting.  Set up a sales meeting to just to say hello and see how things are going.  You can also send them invitations to events, share white papers, and other content that you think would be valuable to them.
5. Build your social media presence
If you haven't figured it out, social media is here and it's growing like hotcakes. Let me share some social selling statistics with you:
There are more than 2.27 billion people online (doubled since 2007)
91% of online adults use social media regularly
80% of active internet users visit social networks and blogs (Source: AllTwitter)
57% of marketers acquired customers via blogging
Companies that blog have 55% more website visitors
44% acquired customers via Twitter
61% of global internet users research products online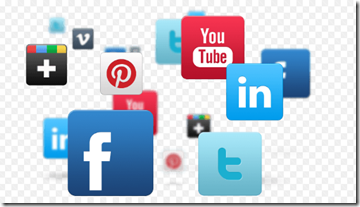 The key message?
Social selling is here to stay!
If you're in doubt of where to start, start easy and take baby steps.  Create a profile on the social media sites which are important in your work.  If you're B2B, make sure you're on LinkedIn (or Xing, if you're in the German speaking countries).  If you're B2C, make sure your business is on Facebook.  Don't waste time being where your potential customers are not.
Remember that a social media presence adds to your prospecting arsenal and doesn't replace your other prospecting activities.
6. Send great content to prospects
According to a survey by Corporate Visions, 80% of the sales and marketing professionals surveyed said that their demand generation efforts were ineffective. Only 20% said that their efforts were effective. When they were asked why their efforts were less than stellar, 37% answered that their content isn't engaging or provocative while only 9% said that they didn't have enough content.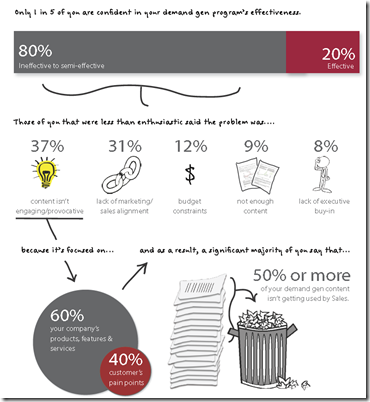 Why wasn't the content good enough?
60% of B2B marketing and sales professionals say their organization's demand generation campaigns focus solely on their own company's products, features, and services—rather than focusing on their customers' pain points.  In short, this means quit sending out content that talks about how great you are and how great your company is.  Give your prospect's and customer's value through your communication.  Show that you understand where they are in the buying process, what their challenges are and provide knowledge, ideas and inspiration which moves them further in the buying process.
7.  Follow up, follow up, follow up
The fruits of your labor generally do not show up on the first contact.  Moving a lead from lukewarm to hot requires hunkering down and doing some work.  This means multiple phone calls, emails and other follow up activities to set up meetings, etc.  It can be a challenge to manage all these activities and using the capabilities inside your CRM system will help to keep you on track.
What are some ways that you prospect for leads?  Please feel free to share in the comments section below.
Looking for support with your CRM needs? Take SuperOffice for a test drive with a 30 day free CRM software trial or download the sales KPI guide below.