Post summary:
What is the #1 email marketing mistake that every business makes?
Why should you segment your database and what are the benefits?
We share 10 ideas to help you get started with email segmentation
Out of 100 marketers, 89 are making the same mistake.
Are you making the same mistake?
This mistake is giving email marketing a bad name and by not making this mistake you can increase email marketing revenue and deliver better value for your email subscribers. And the best news is that you can change this quite easily.
So what is this mistake we are all making?
The mistake: We send one email to our entire database
That's right. 89% of marketers do not segment their database and send one email to all in the hope that at least a few readers will take action, just like the old 'spray and pray' approach. Why else do you think people refer to email marketing as sending an 'email blast'?
What do you think happens when an email subscriber receives an email that is not relevant?
Research by campaigner found that:
60% delete the email
27% unsubscribe from the brand
23% mark the email as Spam
Email marketing is twenty years old. It's the grandfather of online marketing, and it's not going anywhere soon. 42% of marketing emails are opened on a mobile device and email marketing spend continues to grow.
In the recent 5 killer email marketing mistakes post, we briefly covered the "one size fits all" approach. However, a lot of marketers are making this mistake. This post explains why segmentation is important, how you can benefit from it and we've also included ten ways for you to easily segment your email database.
Segmenting your database will increase revenues
Email is one of the most powerful marketing tactics. According to the Direct Marketing Association, the average ROI is 40:1. And research by Message Systems found that 63% of marketers cite email as the channel that offers the best ROI. Is email marketing providing you with the best ROI?
More than 290 billion emails are sent daily. And Email marketing is the most trusted form of communication with 77% of consumers choosing email over other online channels.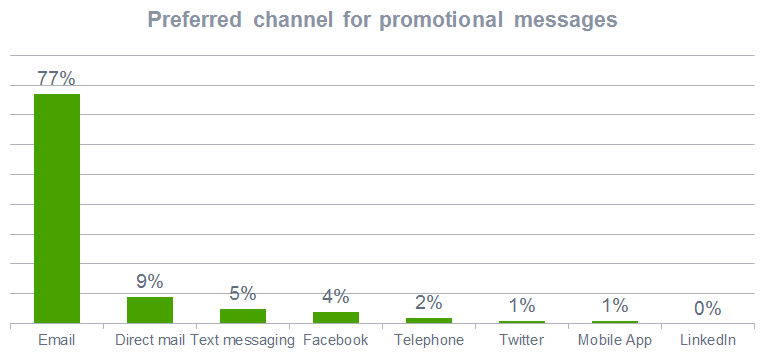 According to a Jupiter Research Study, marketers who segment their lists can improve conversion rates up to 355% and increase revenues by an amazing 781%. Yet only 11% of marketers actually segment their lists.
HubSpot analyzed for than 100,000 emails and discovered the average click-through rate for a single email list was 12% lower than the average click-through-rates for segmented lists.
And a quick visit to the MarketingProfs website to read through the case studies on segmentation shows several industries increasing click-through-rates and revenues.
When you segment your email marketing database, not only will revenues grow, but a large number of your email marketing metrics will increase, as research by eMarketer found: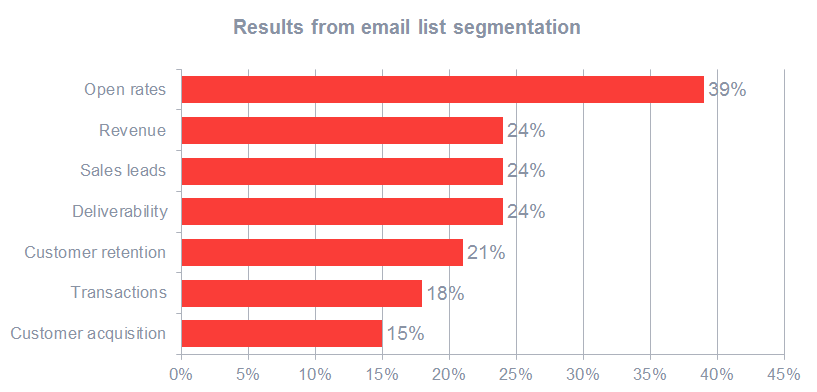 10 ways to segment your email database
Targeting and personalization are now a top priority for digital marketers, along with Conversion Rate Optimization and Content Marketing. In fact, it's one of the fastest growing priorities as marketers can now see the impact of targeted campaigns compared to the one size fits all approach.
To help get you started, here's 10 ways to segment your email marketing subscriber list.
Let's dive right in!
1. Location
Have you ever sent an email to someone who lives in a country you do not ship to? Or how about inviting subscribers to attend a 1 hour seminar in London when they live in Spain?
Knowing where your subscribers are located is powerful data that can be used to fine tune your targeting efforts. Instead of sending an email to all, send emails to those who live in the surrounding area of your event or conference, and increase the number of seats filled.
2. Industry
If you're business to business, you will be selling to organizations across many different industries. Knowing the industry your leads work in can add a great level of personalization. For example, using case studies and content around the industry you email to can help increase response rates.
3. Job title
Your email list will include chief executives, consultants, customer service agents and human resource managers. It's a diverse list. Should you send the same content to a marketing director and HR manager? Probably not
Segmenting your list my email type will help deliver a more relevant message to your audience.
4. Website behavior
Do your customers visit your website on a weekly basis? How often do they log in to their account?
If you can notice behavioral trends on returning visitors, specific pages they visit you can send targeted emails based on this behavior. Amazon is a prime example of how effective email marketing can be when targeted.
5. Company size
Often an approach used in account-based marketing strategies, separating content by company size or revenue can help increase response rates. A small business with less than 20 employees and revenues of $500,000 will have different needs compared to a Fortune 500 company that has more than 10,000 employees and generates $20+ million per year.
6. Interests
What are your interests? If you are passionate about email marketing, are you more likely to read content about that includes B2B email marketing examples or content about CRM database input administration?
Filter email subscribers by interest or product category to make the message more relevant to the reader, and you can even use past purchase history to identify the interests for those who have already signed up to receive emails.
7. Sales cycle
For buyers' who have just started out researching the industry and are collecting comparison data; these subscribers should be sent research related content - white papers, industry reports, etc. whereas someone who is later in the buying cycle, closer to making a decision should be receiving information on software free trials, product demos and webinars.
8. Age
Would you send the latest cat meme to a 55 year old based in the country side? Likewise, would you send your nineteen year old drinking buddy a 50 page industry research report? Maybe you would, but by segmenting by age, you are able to identify who your target audience is.
9. Language
If you're an English speaker and work in Japan, do you receive English emails with offers that are only for valid to the UK or do you receive emails in a language that you do not understand?
International email marketing is a challenge. However, you can start by segmenting by language and cross-reference this data with location to identify the content the subscriber wants to receive in order to provide the best value.
10. Customer value
Customers who spend more with your brand are more loyal to you than those who don't. Use the data on these customers to keep them engaged by sending them personalized emails and exclusive promotions.
Use a similar approach for subscribers who signed up but haven't bought. Entice them with offers to get them to make their first purchase.
Conclusion
If you're not seeing a high return on your email marketing campaigns, you are making this email marketing mistake. You need to change your approach today!
Use these segmentation tips to start sending relevant content to your readers and become better at email marketing, which will help you your business grow and will keep your customers happy.
Sending the right message to the right person and the right time will deliver a high ROI.
Now it's your turn
How do you segment your email marketing lists?
Which segmentation ideas have you used to increase response rates?
For more email marketing tips, download our free white paper "Email Marketing Best Practice Checklist"