The beginning of the year is traditionally associated with making plans, forecasting new trends and setting up goals.
That's exactly what I am going to do in this article – discuss the most prominent CRM trends and see whether the numbers support them. Here are my thoughts of what CRM industry is going to be all about in 2022.
Just like a decade ago, Customer Relationship Management (CRM) in 2022 is set to be about customer-centricity.
Just like before, personalization and proactive communication will play a key role in customer retention.
So, if you want to stay competitive in the market (and I strongly believe that you do), you need to focus on advancing your CRM technology.
The process should include the implementation of shared systems, streamlining the data collection, and using the insights gained for predictive personalization (read: marrying your CRM to AI).
With the rise of CRM solutions, a quality system can work wonders for business profitability. However, some companies need help in understanding how to use technology the right way in 2022.
In this article I'd like to discuss:
the reasons why organizations fail to use their toolkits effectively;
the main goals of Customer Experience (CX) teams this year;
insights into your customers' expectations, and more.
CRM software is the most used CX tool
It's no surprise that the Covid-19 pandemic has accelerated the use of technology in organizations.
In 2020, the average share of customer interactions that were digital made up 58%, compared to 36% in 2019.
And when it comes to CRM systems, they are the most commonly implemented tools across businesses of all sizes and niches. In ten years, the CRM market has grown from $13B to $48B at a compound annual growth rate (CAGR) of 14%.
Not only sales reps and marketers, but also customer experience specialists heavily rely on the CX tech stack. While CRM tools remain to be most popular specifically among sales representatives, 47% of surveyed CX professionals use CRM tools to accomplish their goals.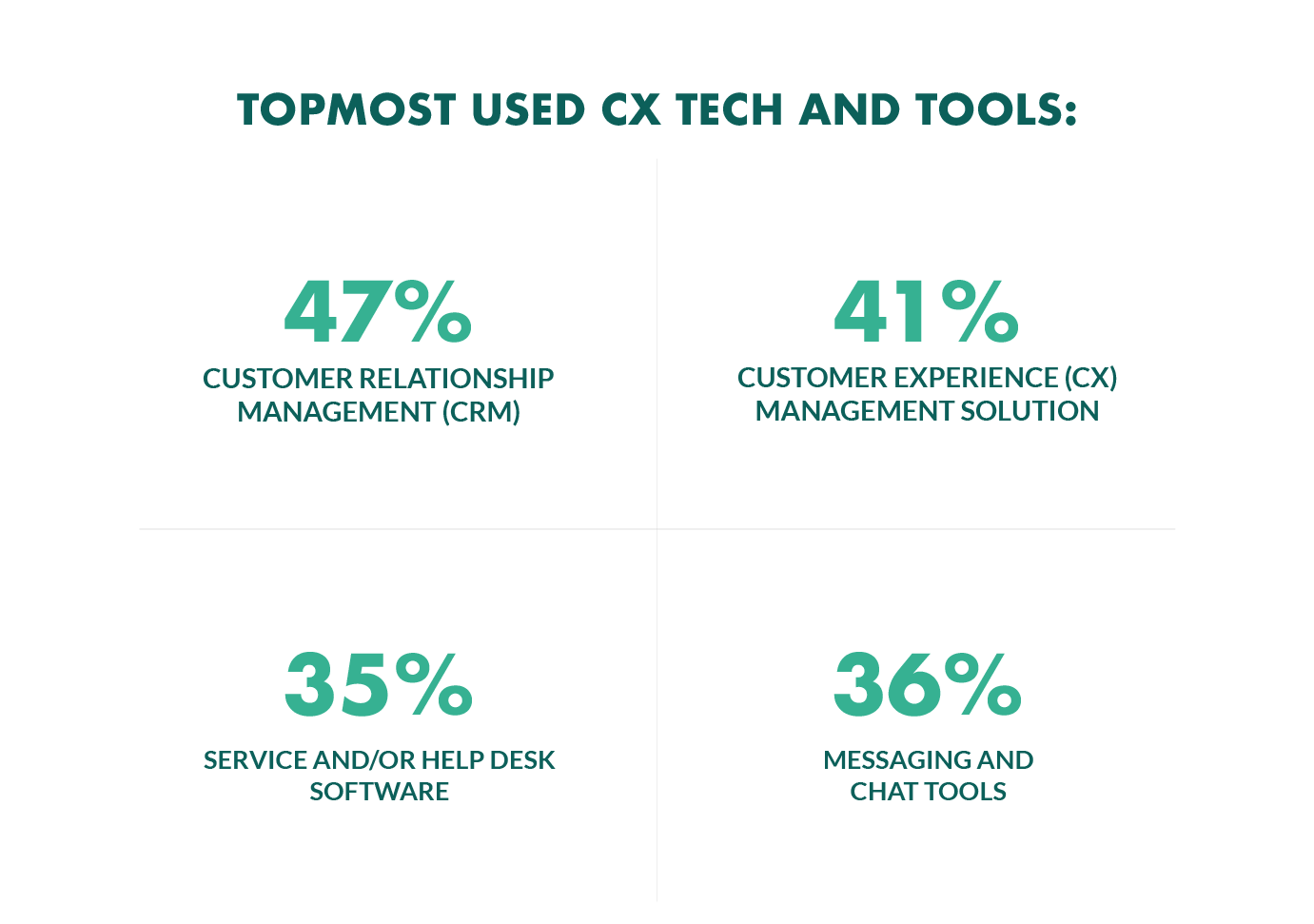 Unfortunately, only 32% of all customer experience experts are confident in their toolkit, which means a lot of organizations will keep improving their CX solutions in 2022.
Shared CRM systems for higher efficiency
One in three organizations says each department uses its own CRM solution.
That wouldn't be the case if these companies knew that teams using a shared CRM across the entire organization are 14% more likely to provide exceptional CX to their customers.
Sadly, 50% of employees say they can't transmit information easily across teams because of the use of diverse CRM solutions in different departments.
What does it mean for entire organizations?
It means they can't deliver consistent customer experience and build strong customer relationships.
Should the implementation of a shared CRM system across all departments be your top priority in 2022? Well, it's up to you to decide whether you want to build successful teams or not.
CRM adoption is in a poor state
Let's now address one of the biggest CRM pains.
One-third of CRM projects fail. The reason? The lack of adoption.
This year, you need to make sure you not only pay for your CRM solution every month, but also encourage your teams to actively use it.
Most often, employees complain they lack training to use their CRM system effectively. You can address this issue by creating a CRM onboarding plan and including it in employee training procedures.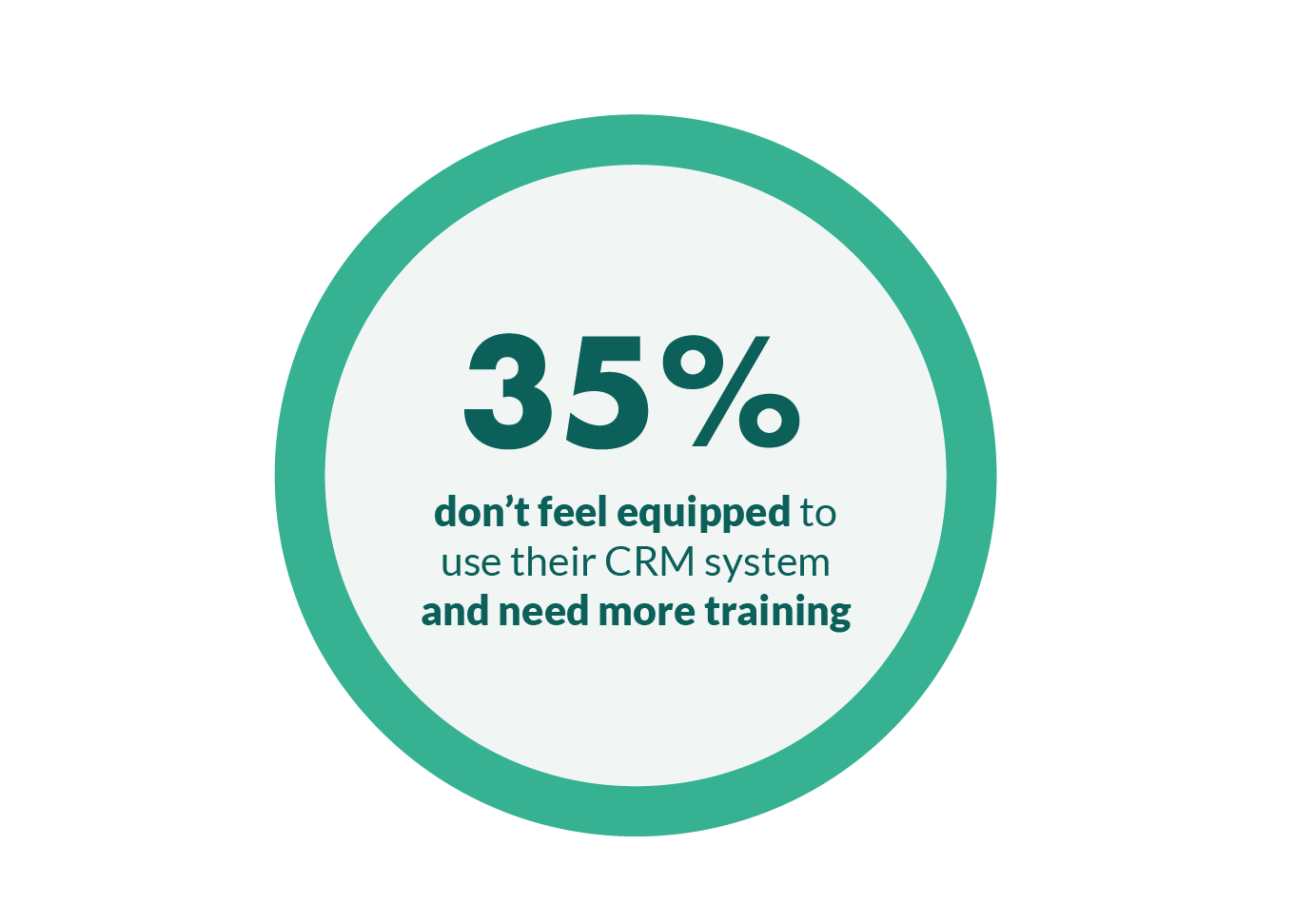 It's (still) the age of hyper-personalization
Personalization has been an important component of business growth since advanced technology appeared. In 2022, it won't go anywhere, but rather strengthen its position.
While marketers and advertisers have been focusing on delivering personalized experiences for a long time, CX professionals are finally empowered to deliver personalized care. McKinsey states that all organizations should make hyper-personalization in customer care their top goal before 2025.
And this forecast isn't behind reality. Q4 2021 has seen 93% of global companies recognize the value of personalization, understand its impact on the business strategy, or have implemented it in their CX operations.
The proportion of organizations already seeing positive results of personalization has more than doubled in two years, from 9% in 2019 to 20% at the beginning of 2022.
How exactly does hyper-personalization impact your business growth? 71% of SaaS companies agree that personalized customer communication is a powerful customer retention tactic.
Predictive personalization is taking the reins
In 2022, you can use customer data and analytics not only to act based on certain market signals, but also to predictively identify opportunities to provide customers with solutions they are about to ask for.
Segmentation is no longer the best technique for delivering personalized experiences! Technologies are evolving, and so are personalization strategies.
In its recent report, Deloitte stresses that companies should achieve deeper levels of personalization with the help of AI-powered hyper-personalization solutions.
The world's top companies, like Amazon, Netflix, and Starbucks, have already implemented predictive analysis in their strategies and are proactively reaching out to customers with personalized recommendations.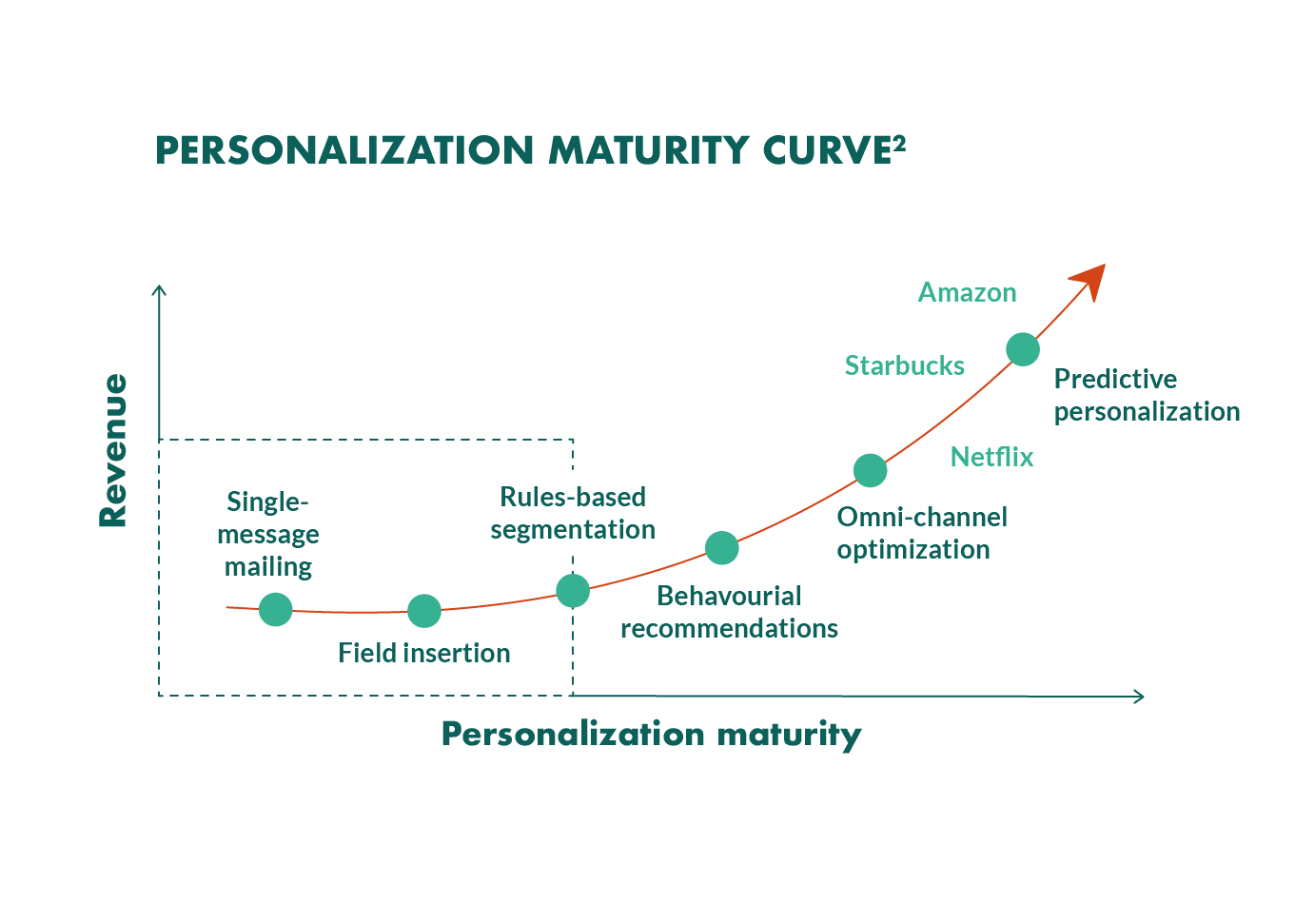 Customers need consistent omnichannel experience
Customers today use many ways to connect with businesses. And you can't make them to just stick to the one that you like.
74% of customers use multiple channels to complete transactions. Yet, less than 1 in 4 businesses have invested in the necessary technology to provide personalized experiences across channels.
75% of top-performing CX teams claim they don't have any problem with analyzing and orchestrating omnichannel experiences. 48% of underperformers, by contrast, aren't able to track and connect customer behaviors across channels.
And here we're facing the issue of disjoined internal teams… again.
A seamless customer experience throughout the buyer's journey requires alignment and collaboration of product development, marketing, sales, customer care, and operations. That's why implementing and adopting a shared CRM solution should be on top of managers' minds in 2022.
Data quality remains a serious challenge
Today, those who have data, have power, as it allows to make smarter business decisions and better understand the needs of customers.
66% of customers expect companies to understand their unique needs and expectations. Yet, reports demonstrate that only 34% of companies treat customers as unique individuals. Why?
To deliver personalized experiences to customers and deepen relationships, companies need data. They also need technology that is capable of collecting and processing demographic data, recognizing customer signals and predicting their next steps. However, 43% of organizations still have problems with getting high-quality data that would allow for personalization.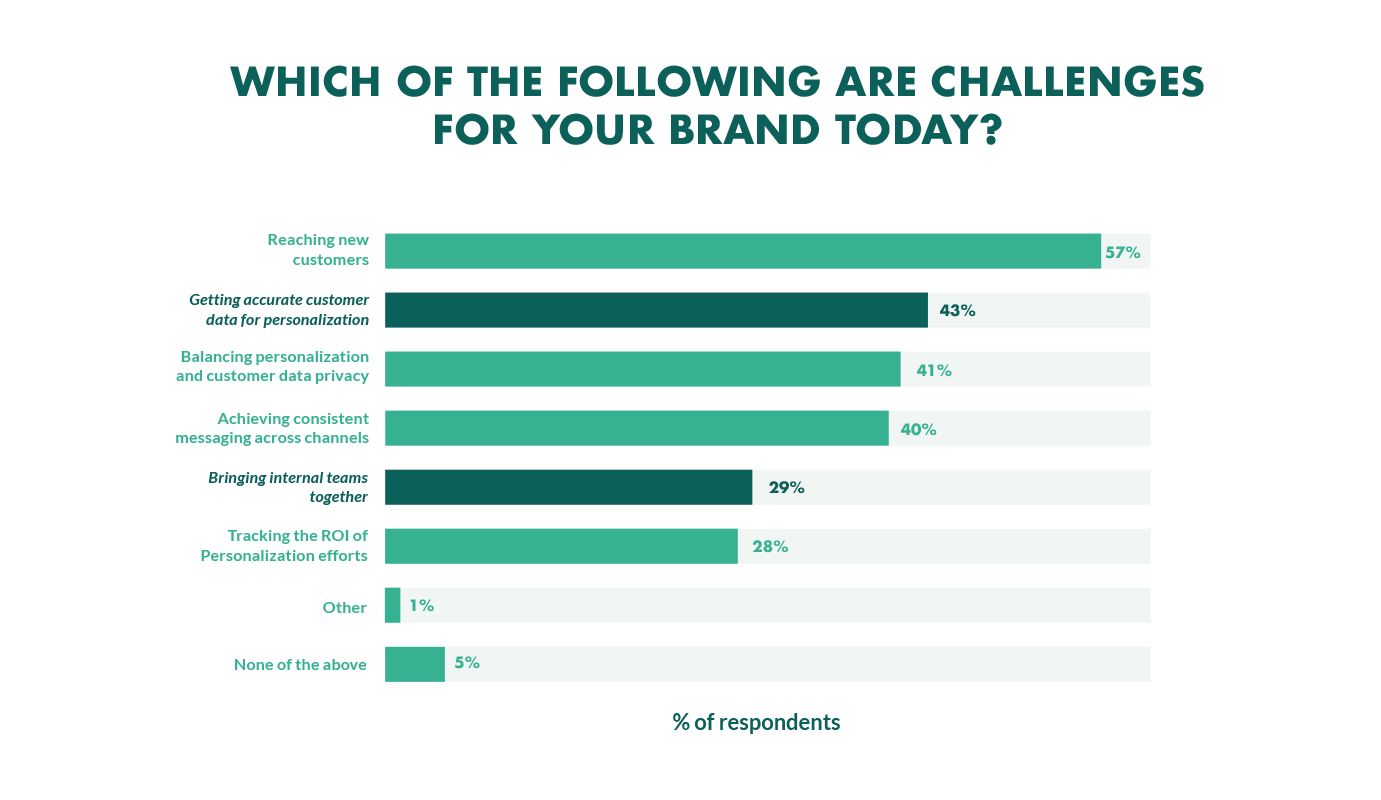 The main reason for the lack of reliable data is that 70% of sales and support reps need to retrieve information from too many sources. No wonder teams struggle to make sense out of the customer data and use it effectively.
24% of customer experience specialists will focus on improving analytics to track and measure multiple customer touchpoints;
19% of experts will prioritize setting up solutions for integrating and better using siloed customer data;
17% of respondents say that all of the above will be their top priority this year.
Customer retention is the top goal of CRM
The good news is that 97% of SaaS companies track customer retention, with 37% of organizations measuring retention metrics on a weekly basis.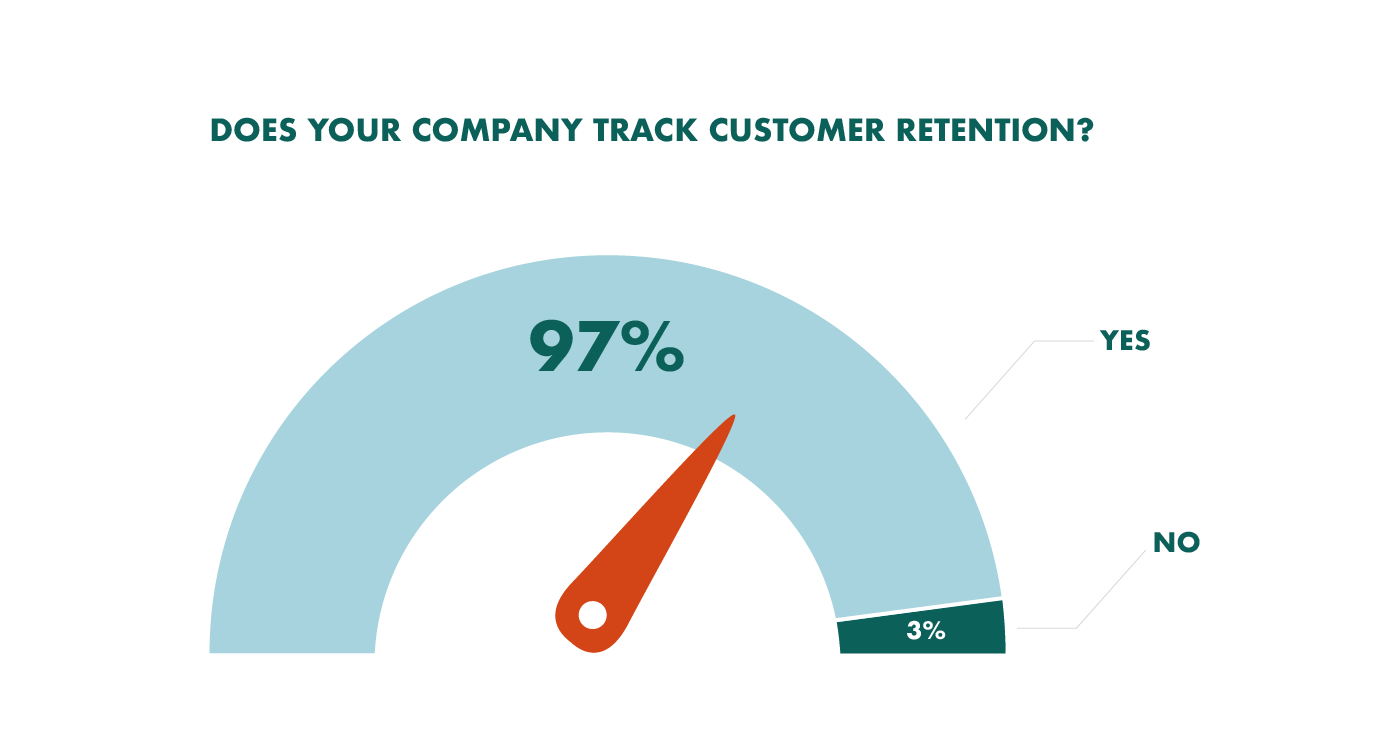 Now is the right moment to revisit your goals and prioritize your CRM initiatives accordingly.
How do you make it possible?
CRM is the key to increased customer retention. 82% of the respondents say customer retention is one of the most important objectives for their CRM team.
You have all the technology at hand that allows you to listen to your customers, notice churning signs, and react immediately – just encourage your teams to turn to it regularly.
Data and privacy matter
Customer relationship management wouldn't be possible without collecting and processing customer data. However, data privacy concerns can ruin this relationship forever.
46% of consumers don't feel they can effectively protect their data today. 76% of those who are concerned about the use of their personal information say it's hard for them to figure out how their personal information is used.
What does it mean for you?
By simply being open about what data you need and why, you can improve brand credibility drastically. You can achieve it by establishing transparent policies for data management and communicating them to your customers.
For example, SuperOffice CRM contains GDPR (the EU General Data Protection Regulation) specific features which help you to administer your purposes for storing, communicating and acting with your customers.
Our CRM system allows you to register what consents you have for each person in your database, when and how you got the consent and who registered it, as well as lets you log the legal basis.
Customers still want to talk to real people
Automated emails and chatbots are huge timesavers. However, they should be used to allow your teams to be more reactive, not to replace genuine customer interactions.
34% of customers strongly agree they would switch from a solution if they were unable to speak to a real person.
This means that in 2022, you'll need to find a balance between automating business processes and recognizing opportunities for real-time customer interactions!
The need for AI-enhanced CRM solutions
As the digital transformation is accelerating in the world, the general confidence in AI is growing too.
In Q4 2021, the proportion of respondents who believe that the impact of AI will be transformative for the digital customer experience over the next years increased from 18% to 27%.
24% of CX specialists expect AI and Machine Learning to help them gain actionable customer insights in the first place.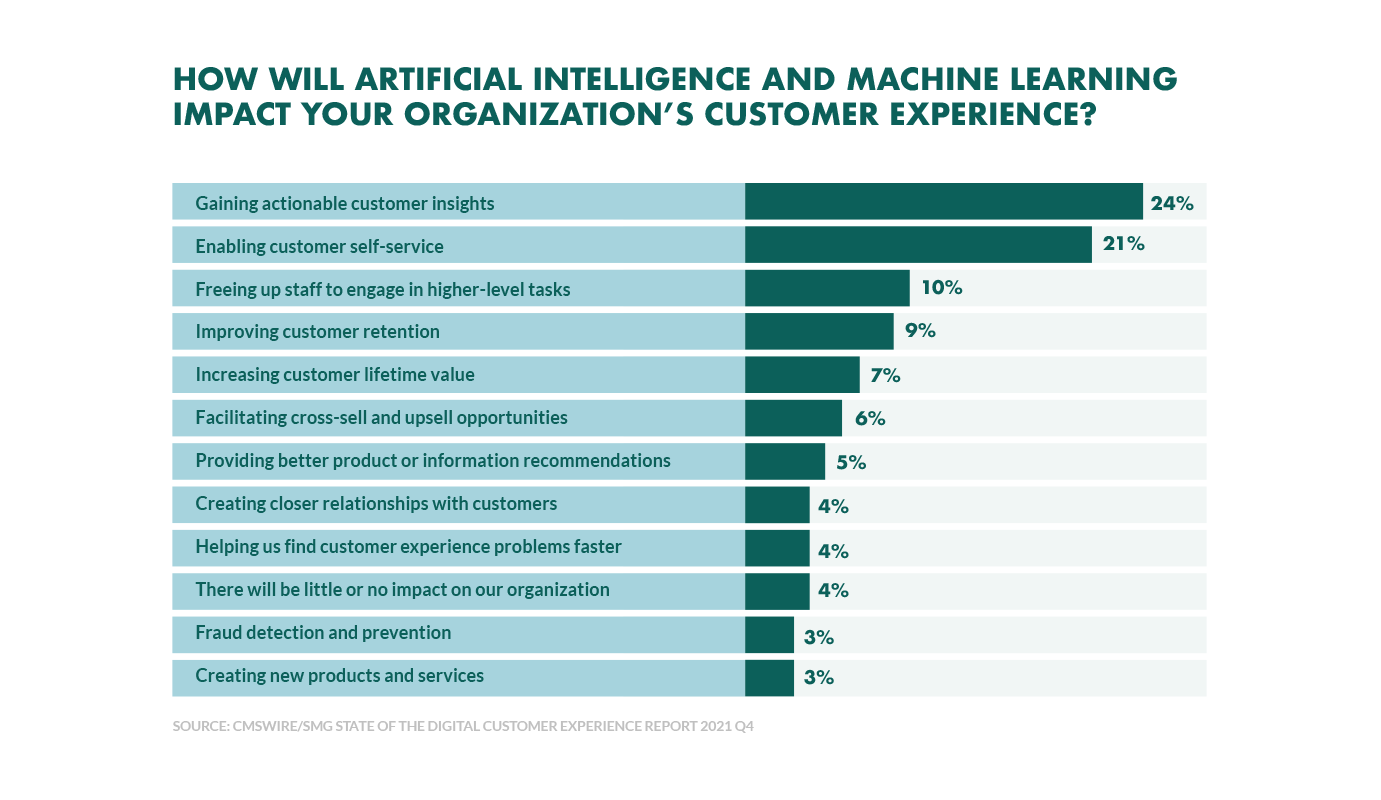 By 2023, 79% of organizations will be using AI-powered solutions to enable CRM automation.
Your plans for 2022
The CRM industry keeps growing. However, implementing a CRM solution isn't enough.
In 2022, only 32% of companies have a single view of customer information across teams. To nail customer relationship management, companies need to provide CRM training for employees outside of sales and support departments.
And, it's also time to prioritize quality over quantity!
Instead of generating tons of leads and segmenting them based on generic criteria, set up your CRM system to track each customer touchpoint and deliver personalized experiences.
To sum up
Here are the key statistical takeaways from what I was trying to tell you in this article.
While the overall CRM usage is increasing, only 32% of professionals are confident in their CX toolkit.
Companies all over the world admit they have issues with sharing customer data between departments. 34% of organizations still use different CRM solutions across teams.
The ability to provide a personalized customer experience will become the top priority for CX experts by 2025.
The future of CRM, as a tool for strengthening customer-centricity, is bright.
CRM not only helps you store and share real-time business data, streamline your sales processes, personalize your offers, analyze your activities, and make informed fact-based decisions, but – most importantly – it helps you build long-lasting and mutually-beneficial relationships with customers that bring revenue!