So, you've built a website that drives leads and sales.
There's still one thing that is missing – Customer Relationship Management (CRM) software... Unless you know how to build a smooth flow for building, maintaining, and scaling your customer relationships internally.
In this article, we're going to share 12 tips for managing your marketing campaigns, coordinating sales efforts, and storing all customer information in one place without turning to an all-in-one CRM.
Does your business need a CRM platform?
The benefits of CRM software are undeniable. However, small teams don't necessarily need a real CRM system right away.
You can try to build a customer management solution internally if you:
Have strong experience with marketing tools and reporting solutions.
Have the capacity to do manual checks.
Don't need a highly customizable solution to automatically process incoming information.
How to manage customer relationships without a CRM
A powerful strategy for managing customer relationships is your key to growing profits.
It's built on your ability to extract and 'decode' data.
No longer do you need to base your decisions on guesses – you have all the necessary information at your disposal.
Let's take a look at 12 best practices for effectively storing, analyzing, and using information that helps you build a strong CRM strategy (without a CRM tool).
1. Ensure effective communication between marketing and sales teams
You need to align your marketing and sales departments not only to attract and convert leads, but also to retain your customers. At every stage of communication with your prospects or existing customers, sales and marketing teams should go hand in hand.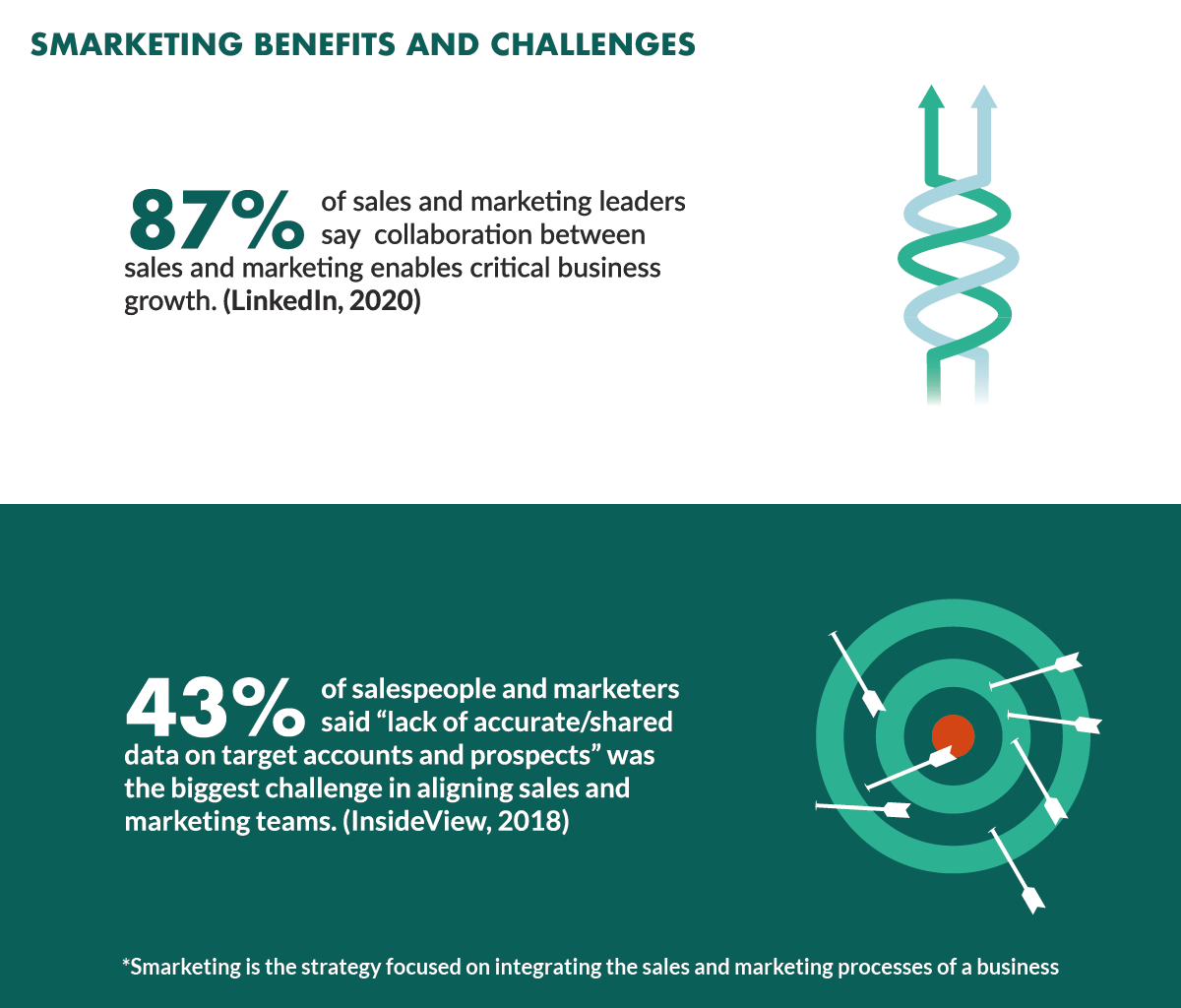 To coordinate your efforts, revisit the customer journey first. When both teams have a shared vision of what happens to a customer at every stage of the sales funnel, it's easier for them to create a single customer experience and add value to potential clients.
Also, don't underestimate the value of customer feedback. Since salespeople do most of the customer communication, there must be a shared document where marketers can find the information on prospects' most common objections and pain points.
When sales and marketing teams are aligned, your customers move through the sales funnel smoothly.
2. Prioritize transparency
With so many companies having switched to long-term remote work, it's not so common to quickly share the news in a "water cooler talk" anymore.
So, to keep everyone up-to-date with what's going on in one or another project, always share the news on the communication channel that your marketing and sales teams have access to.
In remote work, there's no such thing as overcommunication. Use shared documents and encourage open communication to make sure everyone in your company is on the same page before they start a new marketing campaign or speak to a customer.
3. Leverage built-in integrations
Just like your marketing and sales teams, your marketing tools also work better when aligned.
Integrations enable you to bring the data of different marketing software together and access more advanced functionality.
Marketing tools typically allow integrations with a bunch of tools that can become a great extension to their features. That's why, when choosing a platform for outbound or selecting a task management tool, it's important to pay attention to what integrations the company offers.
4. Use application integration tools
Say the functionality of your lead generation tool doesn't allow you to integrate it with your email marketing platform. What should you do then?
The easiest workaround is to use an application integration tool.
Tools like Zapier or Automate.io enable marketers to build automated workflows that wouldn't be possible without a third-party connector.
Now, you can easily connect your JotForm account to the SendPulse email marketing platform and schedule email sequences for new users that have filled in one of your forms without going on a paid plan of Mailchimp or HubSpot. To stay on top of your task list, you might want to integrate your Drift chat and Trello board. Whatever integration you come up with, it's most likely it's made possible by one of the integration tools.
If the number of tasks that your marketing tools run monthly doesn't exceed the limit that Zapier offers on a free plan, you can access this functionality without spending a dime.
5. Automate everything you can
The more manual effort your customer management strategy requires, the more dependent you'll be on your or other team members' capacity. With the help of integrations, you can optimize almost every marketing process.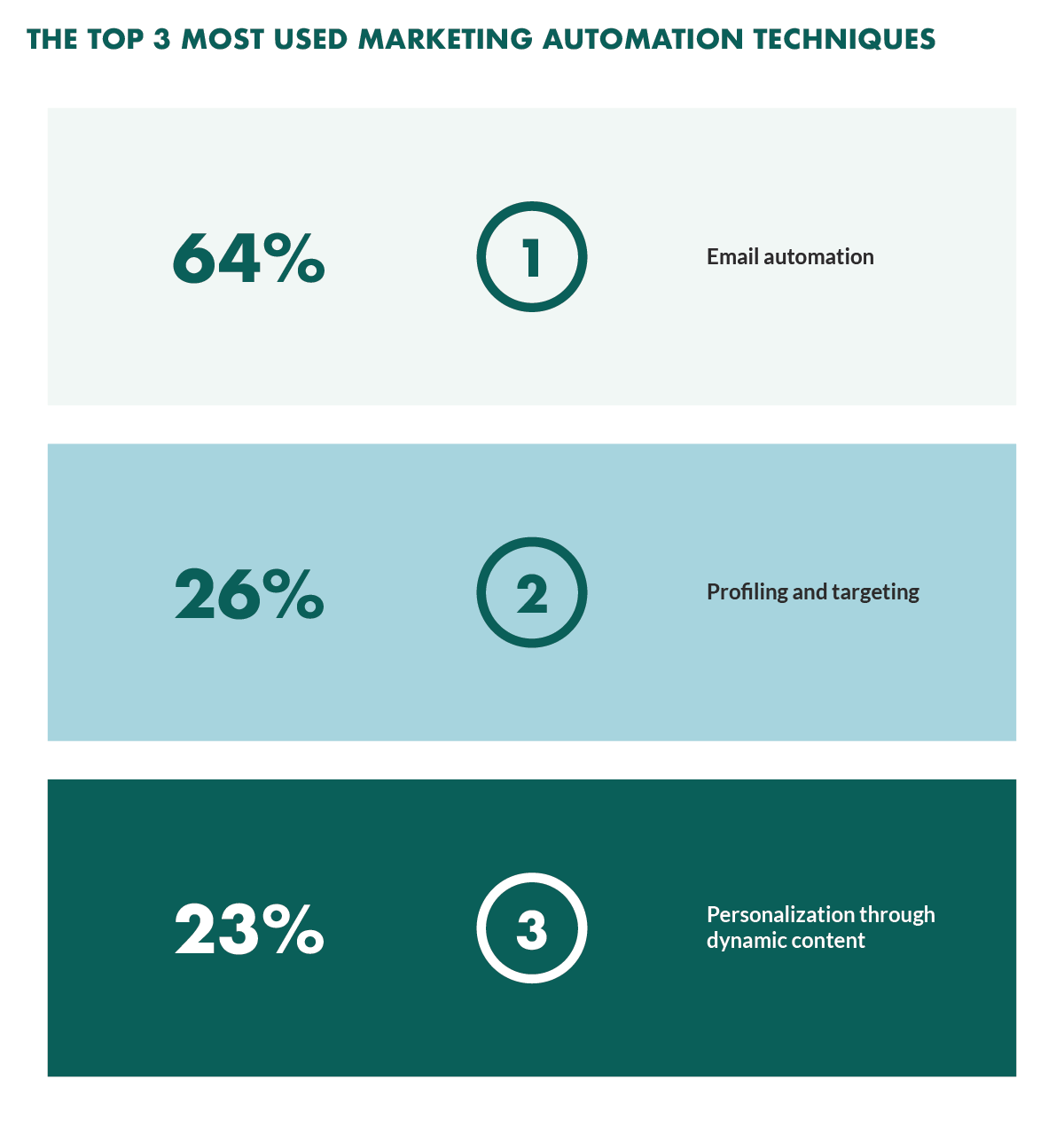 Automate repetitive tasks such as sending monthly email marketing campaigns, responding to similar customer service requests, or following up on the topics your prospects have shown interest in.
When setting up marketing automation, always take into account your customer behavior, the data on interactions they have with you across different marketing channels, and the data that you have from previous marketing campaigns. Using these behavioral inputs, you'll set up the flow that fully meets your leads' and customers' needs.
Here are just a few ideas for marketing automation workflows:
Segmentation of mailing lists
It's no surprise that you reach your target audience at different stages of their buyer journey. While some might already be open to having a chat with one of your sales reps, others are still exploring content on the topic and looking for free guidance.
The issue is that all these people reach one mailing list after downloading the specific lead magnet or filling in the form to get access to the webinar. By automating the segmentation of the mailing list, you save a lot of time and ensure every lead receives the most relevant content.
Email sequences
Email automation allows you to set up sequences that will be assigned to different contacts based on their behavior. The actions that users take on your website or the way they interact with your newsletter may trigger the specific email sequence that will help you move the lead through the sales funnel.
Auto-responses
Do you have a contact form on your website? Then you can set up automatic responses that will be sent to every user based on the answers they filled in the form fields with.
To retain prospects' attention, you need to follow up immediately. This step allows you to open the conversation right away and get involved when you have time.
Assigning leads to sales representatives
Marketing automation is useful not only for nurturing your leads and customers along their buying process, but also for involving the relevant people when they're needed.
When you set up an automation that assigns leads to sales teams without any manual effort, you ensure no potential customers get overlooked.
Retargeting
Most of your site visitors won't get right into that sales funnel. They'll bounce fast without leaving any traces. But it doesn't mean you can't build strong relationships with these people.
Retargeting is the most powerful technique to convert people familiar with your brand and turn them into loyal customers. By installing a tracking pixel on your website and setting up a paid campaign (paid social, search ads, etc.), you'll be able to reach people that have visited your website and took certain actions with highly relevant content.
6. Use your business communication app
Speaking of transparency, it's a good idea to create Slack channels (or whatever business communication platform you use) where the alerts about new leads and sales opportunities are created automatically and seen by everyone involved.
Manually checking every marketing tool takes much time. So why not display the status of leads and prospects directly on your business messaging app?
7. Sort messages in your inbox
Communication is the central part of your customer relationship management strategy. It's the best way to learn what your target audience is interested in and get more personal with them.
To avoid missing the most important conversations, you need to keep your inbox organized.
Filter incoming emails based on the types of submissions. Do you want to keep track of leads filling in the contact form displayed in the blog section? What about people who reach out to you after visiting the landing page? These audiences are most likely to have a different intent. Therefore, we recommend that you assign different tags to emails coming from one or another audience type.
8. Master good old Google Sheets
Many companies use Google Sheets as a CRM tool.
To create a CRM using a spreadsheet, you need to specify the data to include there first. Start by answering the following questions:
What are your lead sources?
What information on deals and contacts do you need the most?
Based on your answers, you can build separate worksheets for different lead sources, create rows that make sense for you, and add the necessary functionality. You might want to include the following headers to every worksheet:
Contact name
Email address
Title
Company name
Contact type
Stage
Notes
Contact owner
Of course, you don't need to import all the data manually. We've already figured out that integrating marketing tools is no rocket science. Just go check whether your toolkit can be connected to Google Sheets in a few clicks or you'd need to turn to a third-party platform. In any case, the process will take no more than a few minutes.
9. Build dashboards
Checking every tool to collect statistics on different marketing projects is a waste of time. Use your Google Spreadsheet to create a comprehensive customer management dashboard.
In case you don't have much courage for this step, you can just use one of the free templates available on the web:
10. Use a task management tool
Integrate your custom-built CRM solution with a task management platform to avoid assigning tasks manually. This one more step is needed to ensure everyone is on the same page regardless of whether you had time to sync with team members or not.
Use this simple integration to send automated text alerts when new submissions are coming in, important milestones are met, follow-ups needed, etc.
11. Document the whole setup
You have a lot of things to do. Marketing automation, tracking setup, dashboards – your efforts make no sense unless your team understands how to use it all.
Every business needs an internal knowledge base (KB). It can be a web-based corporate wiki like Confluence or shared Google Drive.
After you build a strategy for customer management, document it in your KB. This way, you'll make sure everyone understands their role in the whole process and knows where they can access the necessary information.
12. Appoint a person responsible for coordinating the process
Activating marketing automations and building a reporting system isn't enough. Someone should be continuously revisiting the processes that you've set up, keeping track of the data, and making sure you're moving in the right direction.
Look, we get it:
Not every business is ready to start using a CRM.
It requires organizational change and commitment.
Commitment from management.
Commitment from your employees.
And commitment to putting the customer at the heart of your organization.
Sure, you can do all this by yourself.
… Or you can use SuperOffice CRM instead
The fastest and least troublesome way to better manage customer relationships is to use a platform designed specifically for this purpose.
SuperOffice CRM will take the hassle out of the process of building successful business relationships and help you turn your leads into becoming life-long customers.