Customer loyalty is fast becoming the Holy Grail in business.
Loyal customers are less likely to buy from your competitors.
And, they are more likely to share a positive customer experience though word of mouth, which means more business for you at a lower cost.
So, how do you create loyal customers?
A study by ClickFox found that the best way to build customer loyalty is by providing exceptional customer service: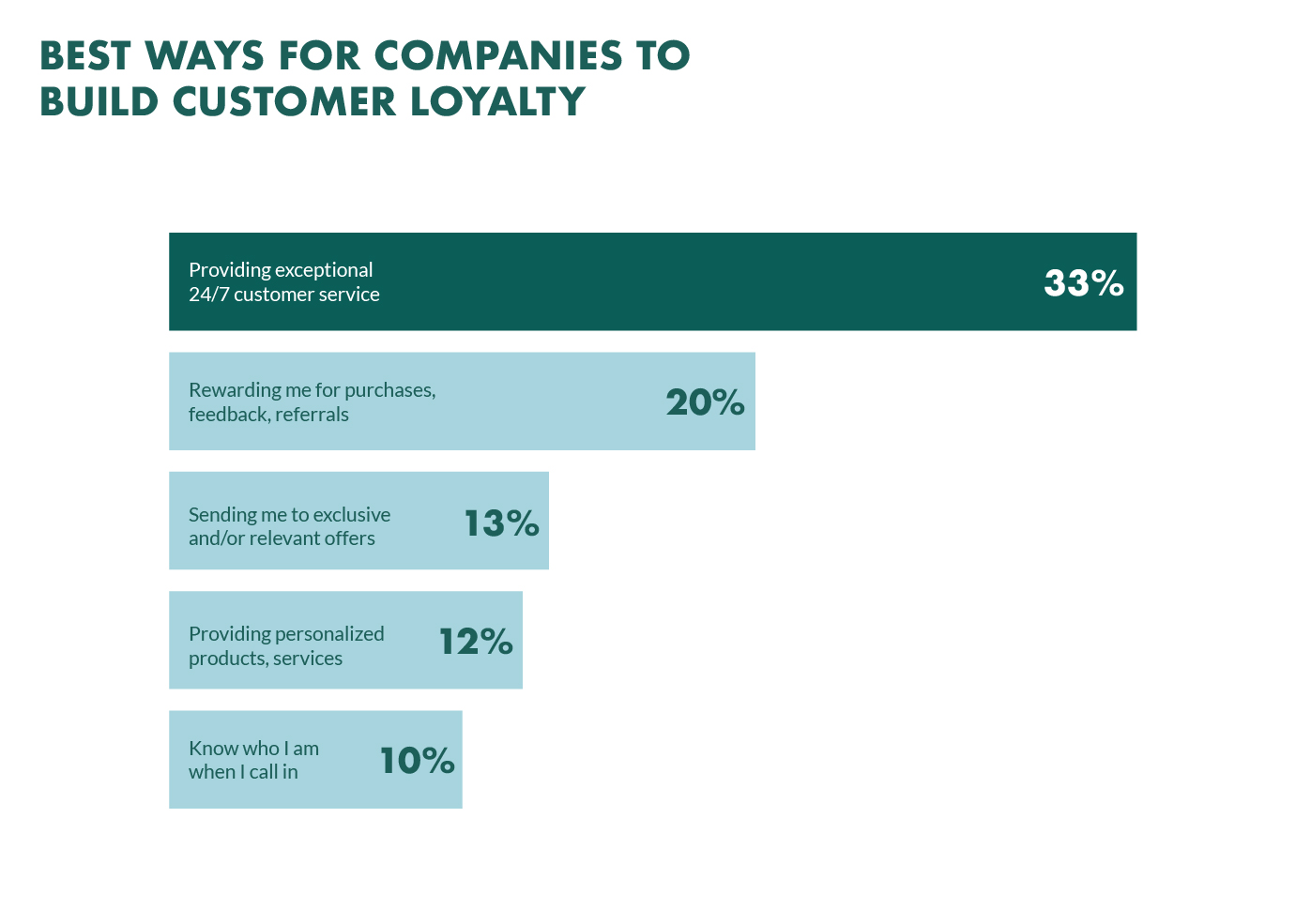 If your customer service routine includes responding to emails through Outlook, or keeping a record of "sent emails" on post-in notes and in Excel spreadsheets, then providing exceptional service will be a challenge.
However, one way to overcome this challenge is to use customer service software.
Customer service software allows you to manage, organize and respond to all customer service requests. It helps you track all customer service requests by using one-click reports in order to understand your response times, get notified of unanswered emails and urgent emails from VIP customers.
Before we get into that, watch this short video that will show you how customer service software works.
Want to know more about SuperOffice Service? Get a free demo.
8 Business Benefits of Customer Service Software
Customer service software will transform the way you communicate with your customers.
In this article, we share 8 of the most common benefits of customer service software.
Let's get started!
1. Keep track of all customer emails and requests
Customer requests are falling through the cracks.
It's impossible to keep track and you lose count of unanswered requests.
Sounds familiar?
This means you need customer service software, which streamlines the way your company handles all customer requests. Each request is automatically assigned a unique reference number. By assigning a unique reference number, you are able to quickly search for a request to find previous communication history and any outstanding issues.
This way, when a customer contacts your Customer Success team, you can easily find their email without having to tell them "it's lost".
2. Automate, measure and report on your customer service efforts
If you rely on an old-fashioned spreadsheet to track customer issues and responses, what do you do when a colleague asks for reports on how your customer service department is performing?
That's exactly where customer service software can help, as it stores everything in one place.
All your customer issues, queries, and suggestions are organized, categorized, scheduled, and well managed.
With just one click, you can create an easy-to-read customer service reports showing the trends and performance of your team, so that you can spot improvement areas and see your team's progress.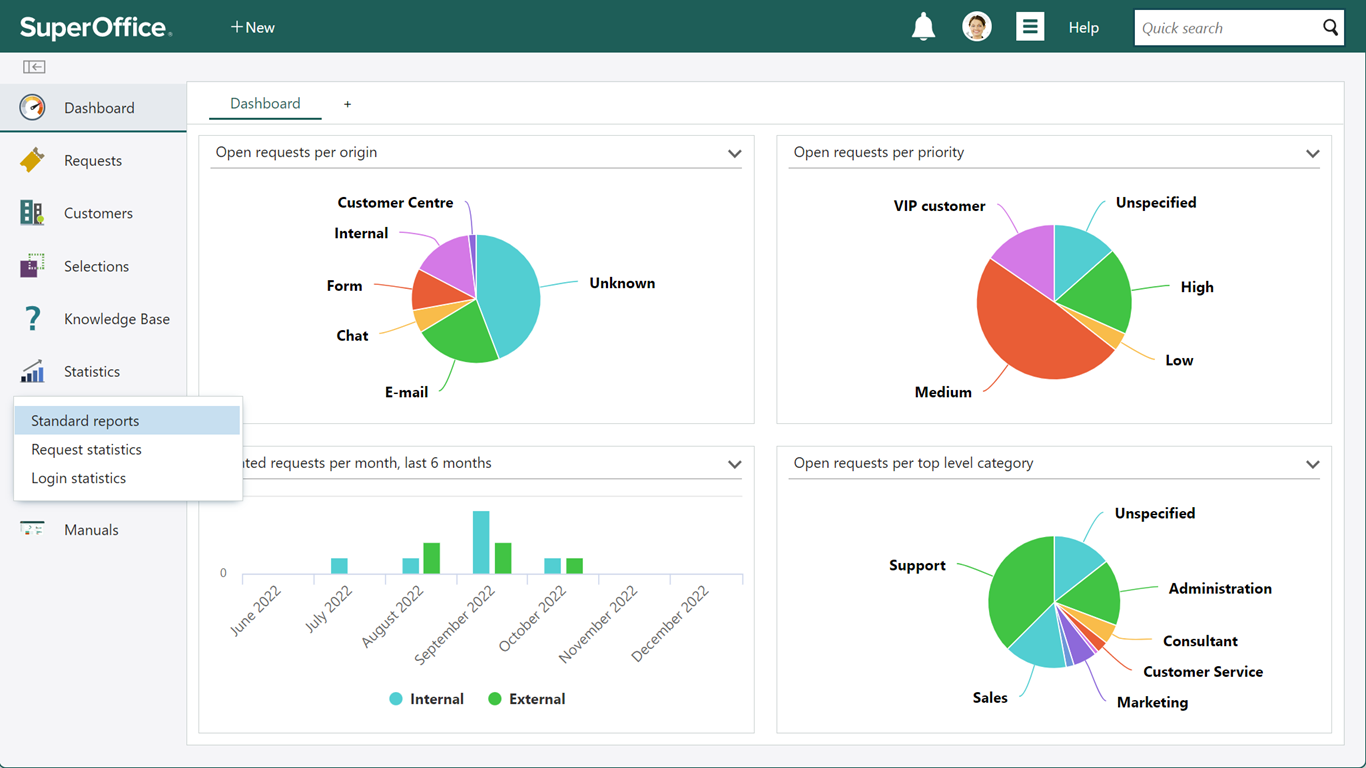 3. Acknowledge every customer request with an automated response
Let's be realistic - it's not possible to solve every problem immediately. And customers don't really expect that from you.
What they do expect from you though is that you acknowledge them. For example, you can inform them that you have received their request and that you are now working on solving the issue.
With customer service software, you can set up and send an automated response for every request that you receive. Unfortunately, only 10% of companies use automated responses, according our Customer Service Benchmark Report.
An automated response can include the unique reference number, customer support opening times and a link to your FAQs or knowledge base. In fact, an automated response might even nudge the customer into solving the issue on their own!
Not sure what to include in your automated response? Use the support template below.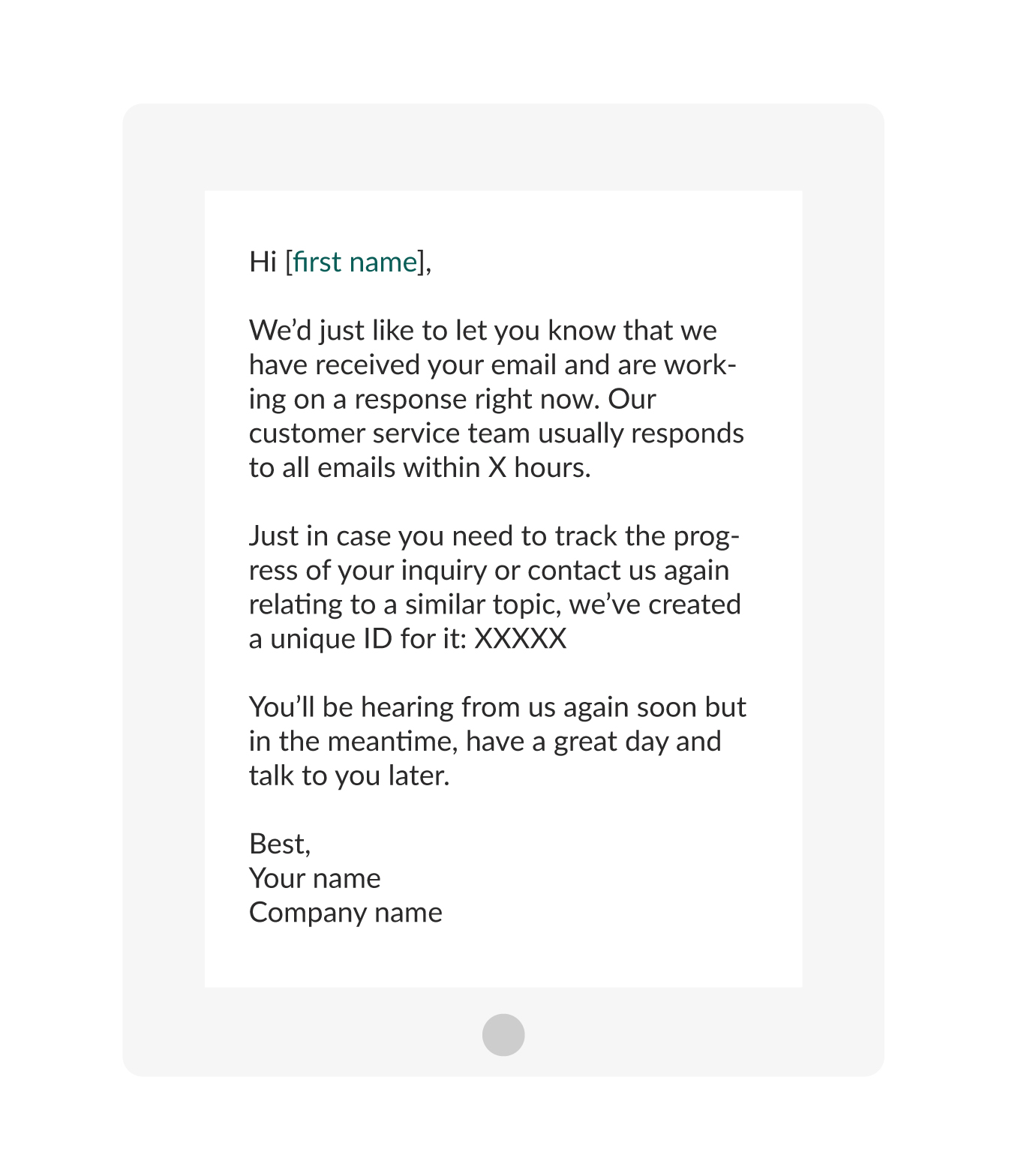 4. Route customer requests to the right person the first time, every time
What do you do when you receive a request that you are not quite sure how to deal with?
You could ask the customer to contact a different department, or ask them to hold while you transfer them to another agent. All this means that they'll have to repeat the same information again. Sometimes even multiple times to several different people!
Customer service software allows you to route a request to the right place or person, with speed and accuracy. You can configure your customer service software to allocate the requests to the team members who can solve them immediately.
For example, you can create an inbox with the email address accounting@support.com and configure your software to send all e-mails to your accounting staff that include the word "account", "billing" and "payment", etc.
Customer service software also allows you to re-assign a request to your colleagues. They'll get a notification with a full view on a customer profile and the issues they've experienced. This way the customer can contact you only once and get the best solution without the needless forwarding.
5. Saves time and respond quicker to your customers
When it comes to providing best in class customer service, speed is an important criterion.
One of the benefits of customer service software is that you can upload and use pre-written email support templates to help you save time and respond quickly. So, instead of typing up your entire terms and conditions in each email or repeating the same explanations time and again, you can simply select the pre-written response from your templates and insert it into your email.
It's a common practice for customer support agents to keep a list of pre-written templates. However, each agent has a different tone of voice. By using templates that are stored inside the customer service software, you can ensure that all responses are well-written, informative and use the same tone of voice – resulting in a fast and high quality response.
6. Keep all customer support information in one place
Customers hate being kept on-hold!
In fact, a recent Accenture survey found that being "kept on-hold" was a customer's biggest frustration - even more so than dealing with impolite employees!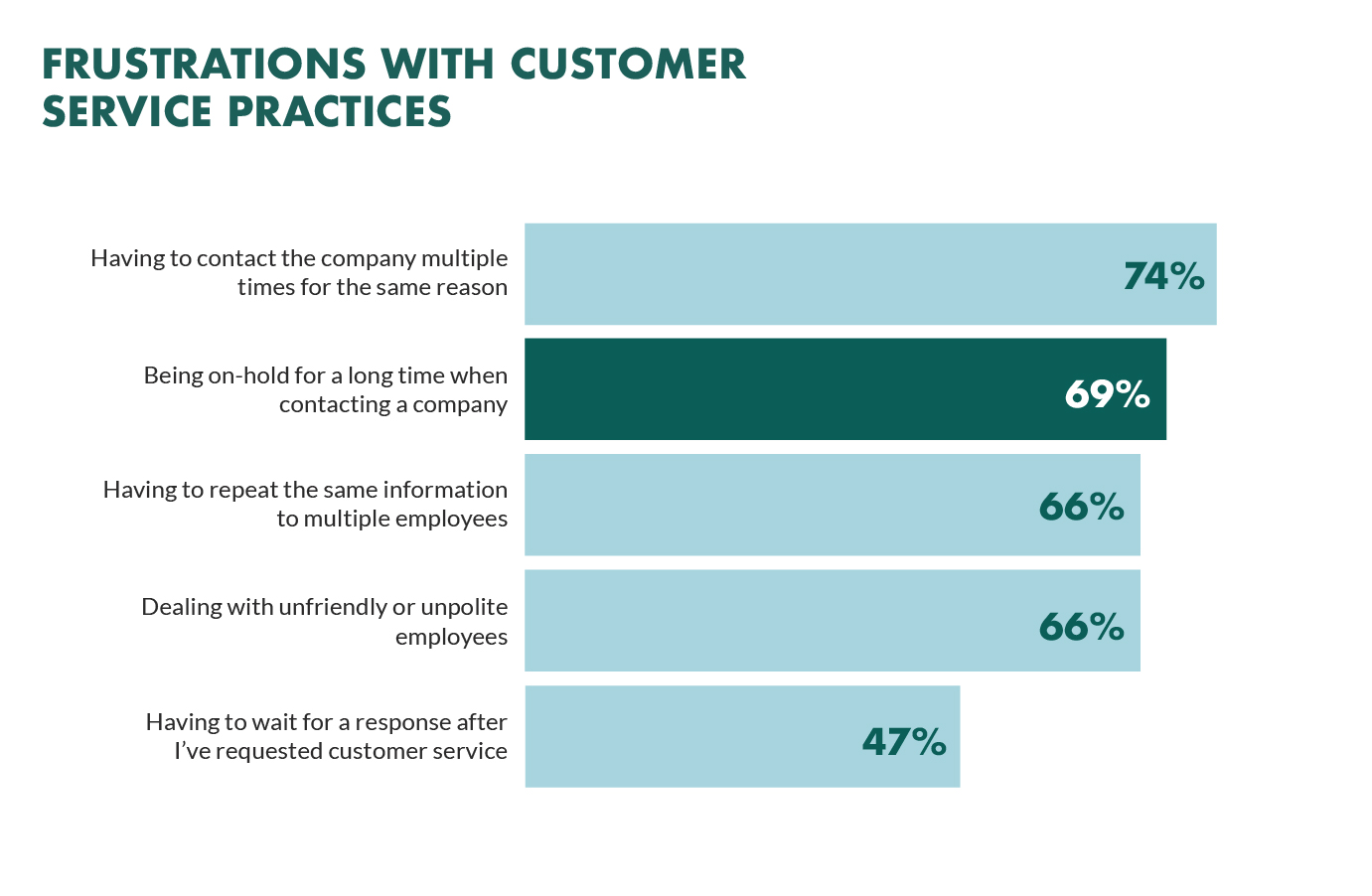 One of the reasons a customer is kept on hold is due to the fact that the customer support agent is looking up the customers' details – 360-degree view, previous communication history, and/ or customer complaints.
And if you don't have access to this information, you may end up having to go back and forth with questions to the customer which results in even more frustration.
Customer service software will track all your interactions with customers, so you get a detailed view of the customers' profile whenever they call or email you. Simply enter their email address or phone number and get the whole picture in front of you.
Customer service software becomes even more effective when integrated with your CRM system.
In this way, you and all the departments in your company can get a complete overview of the customer's profile and all the history of interactions with your company at any time, including sales, marketing and service information.
This means that if one of your support agents is away on vacation, another agent can continue handling any outstanding requests without putting the customer on hold.
7. Offer round-the-clock support
Being available to your customers 24/7 might be a challenge in terms of resources. Instead, you can provide a self-service option that allows your customers help themselves.
With customer service software you can build a customer center, where your customers can log in, view their request history, ask questions and search the knowledge base or an FAQ library any time they want.
This way your customers will feel like they are receiving 24/7 customer support and will be able to solve issues by themselves.
8. Prioritize customer requests
Prioritizing tasks is key in business. Thus, certain customers and request types should have priority, while others can be addressed later.
Whether you work at the region's top performing company or at a local family-run store, every business can relate to having "important" customers. An important customer might be your largest account that spends the most, or the customer who was not treated well in the past and now deserves extra attention. Either way, these people get priority.
This can be difficult if you have to browse through your inbox, one email at a time, in order to remember why they are emailing you in the first place.
One of the biggest benefits of customer service software is that you can prioritize customer requests according to any criteria you set. For example, you can create notifications and alerts so that if an email is not answered within four hours, it will jump the customer service queue and go directly to the next available agent.
In SuperOffice Service, creating alerts is easy.
Simply choose the type of messages you wish to be notified on and how you wish to be notified, as shown below.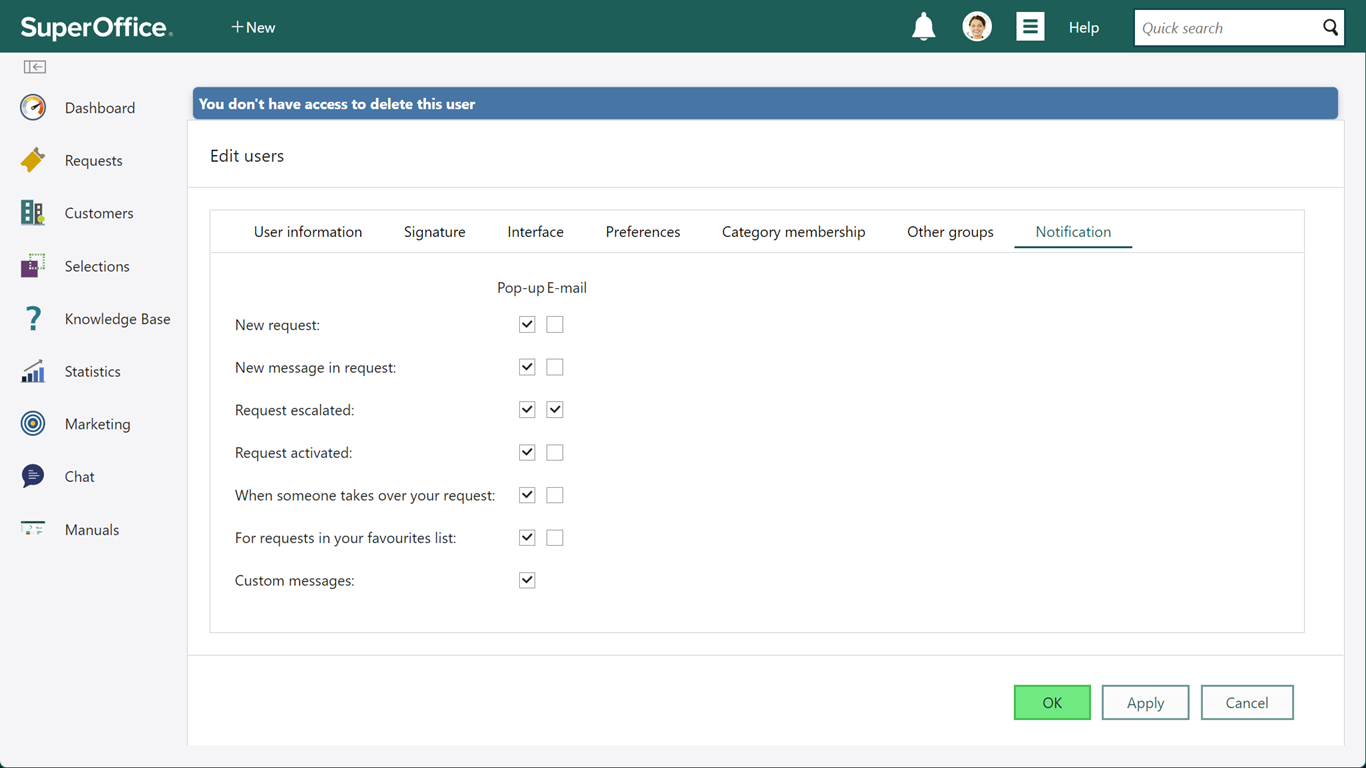 So, when the bosses wife does email you, you can create an alert that is only shown to the boss so he knows when to drop everything and answer that email!
Conclusion
Having the right tools is essential to providing excellent customer service.
The customer service software allows you to create automated processes that will help you serve your customers better, provide fast and high quality service and have access to their entire communication history – all in one place.
So, instead of manually counting the number of sent emails and calculating response times, you can focus more time on creating more loyal customers.
Less work for you. Better customer service. Who doesn't want that?
If you would like to learn more about how a customer service software can help improve customer loyalty, sign up for a free demo here.