What do businesses compete on today?
Is it product, price, variety, innovation, or maybe corporate ethics?
Yes, all of these factors fire up competition. But… there is a new "battlefield" in town! 😲
The main competition for businesses around the world is now taking place in the customer service field.
It's how you treat your customers during and after the sale that matters these days the most. Customer service (CS) and customer experience (CX) determine whether or not the customer will return, stay or buy more.
In other words, every business is competing for the customer. And 77% of brands acknowledge that customer experience is a key competitive differentiator!
And what about customers? Do they feel their rising power?
Oh yes, they do! Just look at these numbers: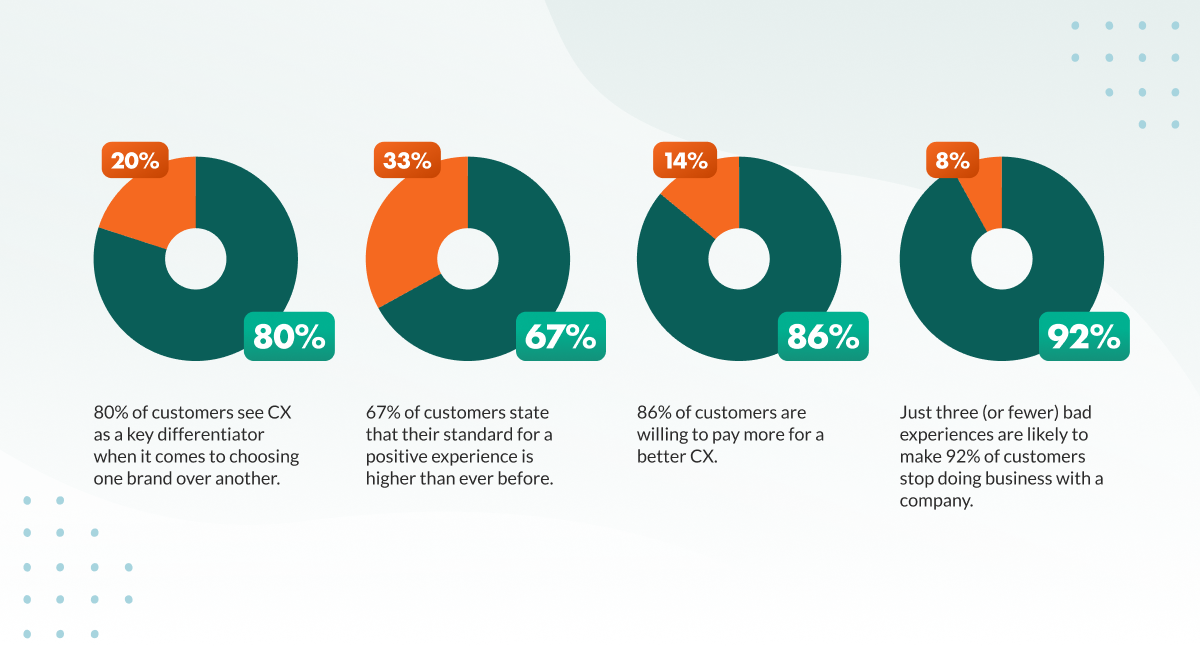 That's why listening to what your customers think about your product or service and their evaluation of your service is paramount.
Listening to the voices (opinions) of your customers is what the Voice of the Customer (VoC) program is all about. VoC is a way of capturing customer views and expectations by employing various methods such as market research, focus groups, email surveys, and various data reports.
Why is the VoC program important?
VoC is about collecting feedback from your customers. But why should it matter to you as a business?
It's profitable. Deloitte research shows that customer spending increases up to 140% following a positive experience. Meanwhile, The Aberdeen Group found out that having a VoC program can increase a company's annual revenue 10 times year-on-year.
It helps you keep more customers and cut costs. Research proves that companies with a well-developed VoC program had a 55% higher customer retention rate and saw a 23% decrease in yearly customer service expenses.
It helps you motivate your employees. Companies that listen to their customers' voice enjoyed 292% higher employee engagement rates.
However, just throwing in a VoC program into the sink of customer engagement programs, without intending to do something about it, is simply – a waste of time. You need to work with the results and be ready to act.
Put simply, if you say "YES" to VoC, you must commit to change.
Hearing voices vs. listening to voices
Of course, businesses have always heard what customers said about them. That's how reputations get built. But have they always listened?
Sometimes the voices you hear are unpleasant. 🙉 But listening to them is a goldmine!
Negative feedback (as much as you don't like it) is necessary and helpful. Dissatisfaction, complaints, and other negative responses give you useful insights into the state of your product, business, branding, and day-to-day operational processes.
Yet, there is another benefit to the VoC program. It helps you not only to see what you're doing wrong, but also what you're doing right! Positive feedback shows what strengths you may want to expand or reinforce.
By collecting and then acting on the VoC feedback you can spread the good word and attract new customers.
So, the proverbial Japanese maxim – "see no evil, hear no evil, speak no evil" – doesn't work in business.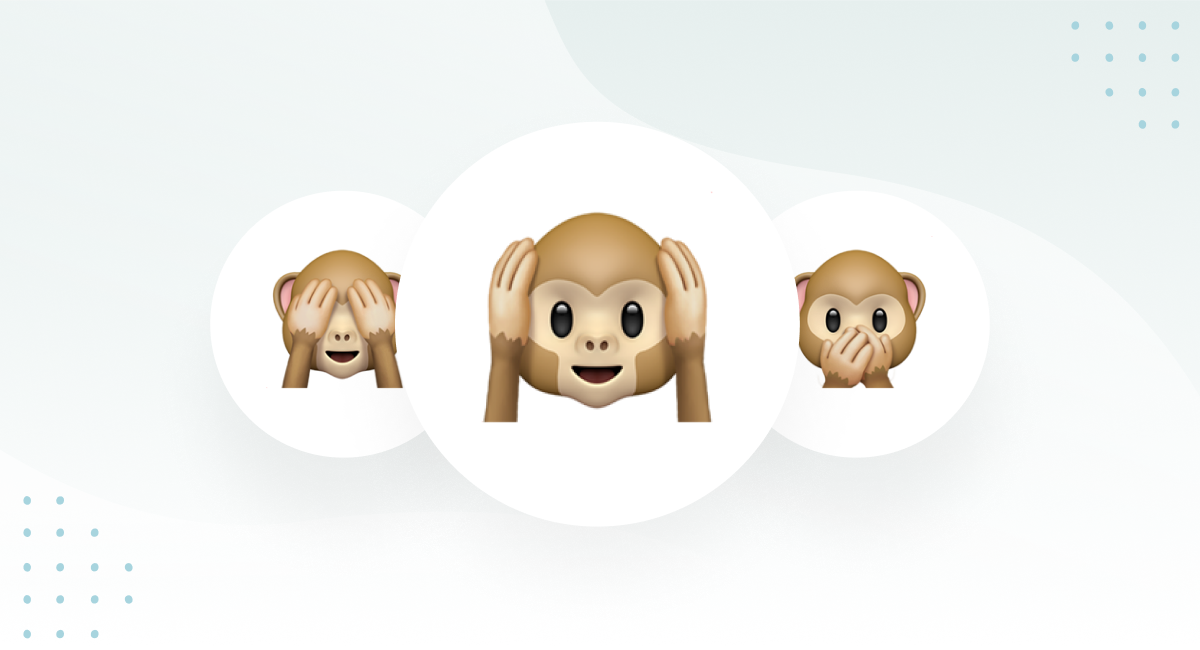 4 ways to run a successful VoC program
To fully benefit from the customer feedback, you need to know how to collect it and – most importantly – what to do with it.
1. Be where your customers are
So, where do you start? First of all, you need to find where your customers are.
How do your customers prefer to interact with your business? What are the key touchpoints in your customers' journey with your business: is it a social media account, a webform on your website, self-service customer portal, email, or phone?
Second, be present at all those places and ask for feedback. You can do it in many ways, such as sending Net Promoter Score (NPS) surveys, Customer Satisfaction (CSAT) scores, post-purchase transactional surveys, conducting phone interviews, or even setting up focus groups. It all depends on what you're trying to measure.
2. Collect feedback proactively
Collecting feedback on your products or services from many people may sound like a daunting task. But, in fact, it is not.
Modern technologies help you automate the process of asking for and collecting feedback, helping you to reach out proactively, aggregate data and route it to responsible people in charge of analyzing and acting on it.
But first, you need to figure out:
Whom to ask. Sending surveys left and right is not the wisest thing to do. If you're asking for feedback on the use of your products, think who your ideal user is and target them. There's little sense in asking people who may not be actively involved in using your product on a daily basis, like, for example, a CEO or CFO of a company you're supplying your products to.
When to collect feedback. This is when having a clearly defined customer journey comes in very handy. If you get the timing right and reach out to your customers at the most pivotal moments of their interaction with your business – you can get the insights you need in order to grow. These key touchpoints could be post-sale, implementation, cross-sale, customer support, etc.
What to ask. In order to really hear your customers' voices, you need to allow them to tell you how it is. Meaning, it's a good idea to include open-ended questions. Let them speak out. Let them give examples. Let them share their ideas. In other words: always ask "Why?".
⚠️ A word of caution! Do NOT bombard customers with surveys. Instead – choose appropriate intervals for reaching out. And never lie about the amount of time it will take to complete a survey. This will only irritate your customers.
3. Analyze
As with any feedback, it could be positive and negative. Some of it will highlight what you're doing right, and some will point to problems and customer frustrations.
To make sure that you're not just collecting this valuable data, but also doing something about it – you need to analyze and measure the results. This will help you make informed decisions and implement visible change. From a CSAT score to customer lifetime value and support agents' performance metrics – you need to measure it all, often using the various analytics tools available.
Analysis will help you identify larger areas that need attention and show how you can strategically keep more of your customers by making them happy.
4. Respond and act
Finally, you need to do something about the feedback you receive.
The VoC program is about getting to the root of why customers feel a certain way about you. And then "close the loop" by offering improvements.
What's the point of asking for feedback if you don't intend to follow through? Ignoring your customers is the shortest way to failure as a business. Instead do this:
Respond. Call the unhappy customers, listen to what they have to say, and offer solutions. There's no time to wait – all customer input should be addressed asap. Whether it's positive or negative feedback, you need to show that you care by reaching out.
Act. Think about short-term and long-term solutions you can offer to your customers. Have a VoC playbook to professionally react to customers' input, especially the negative ones. You might need to reconsider who is tasked with doing this job – those need to be the best of the best CS employees!
It's everybody's business
Let's recap.
Listening to your customers is profitable! According to a research by American Express,7 out of 10 customers say they've spent more money doing business with a company that delivered great service. While, feeling unappreciated is the #1 reason customers switch away from products and services, a report by New Voice Media claims.
An effective VoC program can significantly improve customer satisfaction and reduce churn. By listening to the VoC, you can modify or adjust your offering to what your customers truly want and need.
However, just deciding to create a VoC program is not enough.
VoC is not just a responsibility of your Customer Success or CX team. It's everyone's business.
For VoC to truly benefit your business, it needs to become a shared company-wide mindset. Listening and paying attention to your customers' voices has to become your company's culture! You may want to hire people who share the same values to achieve this.
Remember – if you say "YES" to VoC, you must commit to change.
Want to know more about what SuperOffice Service can offer? Sign up for a free demo here.