Post summary:
What is an inactive subscriber?
Why do subscribers become inactive?
The 3 types of email activation campaigns
A top priority for marketers this year is to grow their email list.
As soon as a subscriber joins your list, you send them relevant information around your products and services and try to engage with them.
Yet, no matter how targeted your emails are, you still see that you have a list inactive subscribers.
It's proven that it costs more time and money to try and recruit new customers instead of keeping current customers. Well, the same applies to your email list.
Today, we're going to show you how you can re-engage the inactive subscribers that you already have on your list and get them into a conversation with you.
What is an inactive subscriber?
As marketers, we define "inactive" a lot more differently than mailbox providers (Gmail, Yahoo or Hotmail).
Marketers define inactive email subscribers as a "subscriber who has not engaged with their email marketing campaigns for a certain period of time". This period of time depends on the business. Engagement is usually defined as number of emails opened or clicked on.
For example, an active retailer who sends between three to five promotional emails per month may define the inactive period as three months whereas a new business that sends one promotional email per month may consider an inactive period as one year.
Simple enough, right?
Mailbox providers define an inactive email subscriber a little differently, using positive subscriber engagement and negative subscriber engagement. Subscriber engagement is a way to measure how a subscriber engages with your email.
Here are some examples of both positive engagement and negative engagement actions;

This definition is important because based on these kinds of engagement actions, a mailbox provider will determine if your email should be delivered its intended recipient.
The more negative engagement actions you have, the less likely your email is to reach your subscriber and you risk being marked as spam or worse, you become blacklisted (and then none of your emails will be delivered!).
And no one wants that, do we?
Instead, we want our email subscribers to take positive engagement actions on your email campaigns. This leads to improved response rates, higher domain sender trust and overall, better deliverability rates.
Why do subscribers become inactive?
An email subscriber becomes inactive due to their behavior with your email campaigns, and there are three main reasons why your subscribers might be inactive;
They want your promotional email but, they have not yet needed to purchase your products
They don't want your emails but are too lazy to unsubscribe
They don't see your email as it goes directly to their spam folder
Of those three main reasons, the first reason offers you the biggest revenue opportunity.
Why?
Because it shows that originally, there was an intention to buy from you.
The second opportunity is this:
Your competitors are not trying to re-engage inactive subscribers.
Research by Strongview found that only 17% of email marketers' prioritize "re-engaging inactive subscribers".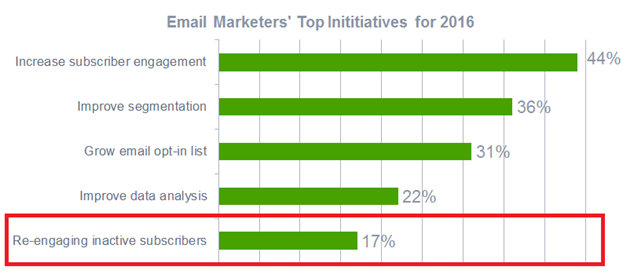 Re-engaging inactive subscribers is a great way to get people who are on your email list to start thinking about your brand again. And you re-engage with them through email activation campaigns.
These campaigns send timely and relevant messages to inactive subscribers, offering incentives to re-engage with your brand. Essentially, you're communicating with people who may have simply forgotten about you.
It sounds simple, doesn't it?
Yet, less than 1 in 5 email marketer's is focusing on re-engaging inactive subscribers.
(and that 4 out 5 marketers' are happy to spend budgets on attracting new customers)
Furthermore, a study by Return Path found that only 33 retailers implemented an email activation campaign between 1 April 2013 and 31 January 2014.
That's not a typo – It's not 33%.
Just 33.
With so few companies focusing on and investing in email activation, is it worth it?
Why email activation is important
According to Yesmail, 70% of your subscribers are inactive.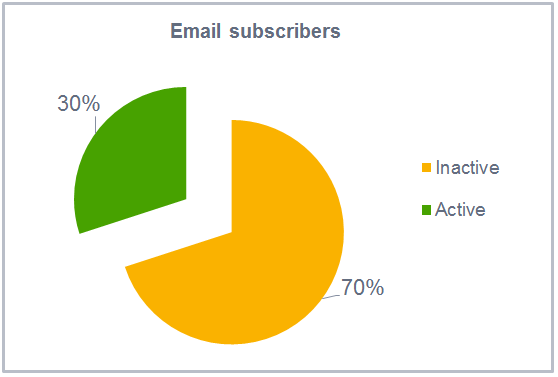 Therefore, the impact you can potentially gain by re-engaging inactive email subscribers is huge with typical response rates reaching approx. 1-2%, but high performers can reach as high as 10% - a significant increase in revenue for any business!
In 2015, MailChimp analyzed 6 billion emails and found that inactive subscribers generate 7% of overall business revenue: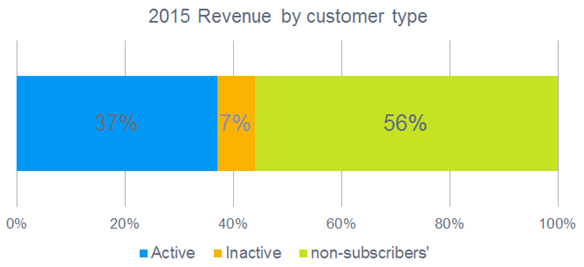 To clarify the chart shown above:
Active: People who subscribe and engage with your email campaigns generate 37% revenue
Inactive: People who subscribe, but do not engage with your email campaigns generate 7% revenue
Non-subscribers: People who have not signed up for email campaigns generate 56% revenue
Simply put:
The more inactive subscribers you can re-engage to become active subscribers, the more revenue you generate.
And consider this;
The average revenue per email in 2015 was 0.07 EUR, according to Experian Email Benchmark report.
If you have an email list of 100,000 subscribers and 70% are inactive, it leaves with you 30,000 active subscribers – that's your email campaign reach. Any increase in email activation from the remaining 70,000 subscribers will deliver a substantial increase to your bottom line.
How substantial?
Going back to an email list of 100,000 subscribers - if 70% are inactive, that's 70,000 emails that are potentially not reaching your audience. At a rate of 0.07 EUR per email, that's a potential revenue increase of 4,900 EUR per campaign, providing you can re-engage them (70,000 emails x 0.07 EUR = 4,900 EUR).
Now, if you send 4 email campaigns per month, that revenue opportunity quickly grows to 19,600 EUR per month (or eventually, 235,000 EUR per year!).

Of course, the more subscribers you have on your email list, the bigger the revenue opportunity.
For example, a list with one million subscribers has a revenue opportunity of 2.35 million EUR per year.
If these numbers make one thing clear, it's this:
Email activation campaigns are very important.
So how do you get started with email activation campaigns?
The 3 types of email activation campaigns
Not all email activation campaigns are created equal.
While some inactive email subscribers are newly "inactive", meaning they subscribed to email updates recently but are not responsive to your campaigns, others might be considered inactive for several months or even years!
The three different categories of activation campaigns include early, mid and late stage:

Let's jump into each category and include examples of email activation campaigns.
These email activation strategies will only work if your subscribers have opted in to receive marketing communications from your company. Make sure you check this before you send out any campaign and that you are compliant with the terms of GDPR.
1. Early activation (0-90 days)
As they say, you only get one chance to make a first impression. As soon as a new email subscriber sign ups - for example, through a web form on your site, you should engage with them immediately.
One way of doing this is by sending a thank you email.
In this email, you can include:
Links to social media profiles
A link to a white paper or guide
A unique offer for first time subscribers

Extended free trial offer
10% discount on annual plans
A feature upgrade
A thank you email also serves a second purpose in that once opened, you start building trust with the new subscriber in terms of a business relationship and the relationship between your sender ID and their email provider. Trust increases deliverability rates, which means less emails being sent to the spam folder.
2. Mid activation (3-12 months)
A large percentage of subscribers (58% according to) will sign up for a one-time offer and promotion and then become dormant.
According to research by Chadwick Martin Bailey, 39%of people opt-in for a one-time offer or promotion.
The good news is that you can still nudge this group of inactive subscribers into becoming active by sending them a "update your email preferences" email.
In this email, you can ask:
How often would they like to receive emails (frequency)
The best time to reach them (time)
The type of emails they want to receive (content)
The best way to reach them (business or personal email)
Where they are based (location/ language)
By asking inactive subscribers to update their preferences, you collect better data on the type of email campaigns that will work best with this group. You can also offer an incentive, such as an exclusive guide in exchange for this information.
3. Late activation (12+ months)
For subscribers that have been inactive for more than 12 months, response rates will be low. At this stage, the subscriber may have forgotten all about you, may not remember that they signed up to receive email updates or, the emails may be sent directly to their spam folder and then they are not aware of your emails anymore.
Here, you can run two types of activation campaigns:
The first is a one time-offer or incentive email. This will appeal to the subscribers who signed up with you to receive a one-time offer in the first place. The one-time offer could be a fixed annual price, free consolation or an invite to an exclusive event.
The second is to launch a survey email. Providing there is an incentive to participate, surveys at this stage can help you understand why email subscribers became inactive. Questions in the survey can include:
Which of our emails do you enjoy reading the most?
What type of emails would you like to see more of?
How often do you read our emails?
How often do you interact with us?
Once you have this data, it can provide insight into what went wrong and help prevent turning new email subscribers into inactive subscribers in future.
Don't set it and forget it
One of the biggest misconceptions about these types of email activation campaigns is that once you have re-engaged your subscribers, your job is done. Unfortunately, all this does is put you back into the same spot later on down the road.
Email marketing activation is not a one-time tactic, it's a long term email marketing strategy.
Conclusion
As we've seen, inactive subscribers can still be valuable to your business. Not only are they are a good source for more revenue, it's also a more cost effective to engage with existing subscribers than it is to acquire new ones.
The next time you plan to re-engage inactive subscribers, remember to:
Use CRM software to identify your list of inactive subscribers,
Segment the list to find out the different levels of inactivation,
Create an activation email campaign strategy
And most importantly re-connect.
And while all mailing lists have issues with inactive subscribers, re-engaging them will increase overall campaign response rates, marketing ROI and revenue. And given that these people are already on your list, there's no acquisition cost!
Have you recently implemented an email activation campaign?
If not, how do you plan on re-engaging inactive subscribers?
Let me know below.
If you got something valuable from this blog post, remember to tweet about it here!
P.S. We've created a free guide (no download) to help you learn more about GDPR and marketing practices here.