Finding the right customer service solution for your business can be an agonizing search.
With so many vendors available, picking one that fits with your vision and goals is no easy task.
Not sure where to start?
Start here! 👉
We've done some of the hard work for you by comparing two of today's top contenders: SuperOffice CRM and Zendesk.
Customers expect great digital experiences
Before the age of digital communication, customers had to rely on more traditional methods to get their issues resolved.
Whether it was waiting in long queues or sending a letter through snail mail (remember what it's like to use a stamp?) – the outcome was painful for the customer.
Back then, no matter how bad the service was, customers didn't have a choice. 🤷
Today, it's very different. Providing "good enough" service isn't enough to keep customers coming back.
With the rise of digital and AI, customers are quite specific about the kind of experience they want.
What happens if they experience bad customer service?
Research shows that 74% of customers would switch to a competing brand or company if they found out they provided a better customer experience.
Just one bad experience can lead to a noticeable decline in customers' satisfaction, loyalty and trust.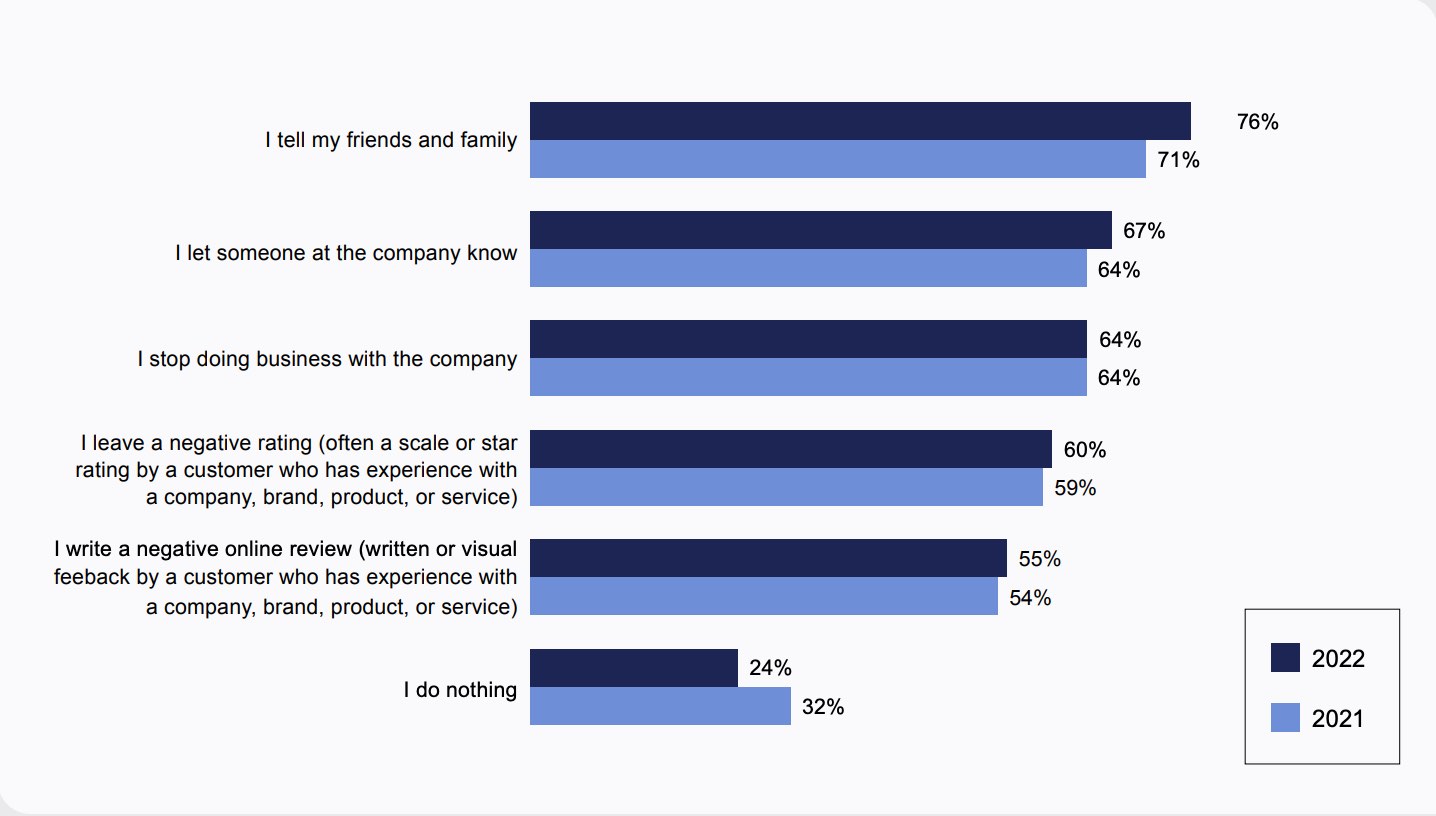 In fact, the survey results revealed that compared to the year past, customers react even more negatively when faced with subpar support than before.
How customer service software can help
Are you really committed to providing exceptional customer service?
Then you need to invest in customer service software! Because it will help you seamlessly coordinate and track your customer communications across multiple channels.
Naturally, the need to offer better customer experiences drives the demand for customer service software.
So much so that the market is expected to hit $58 billion by 2030!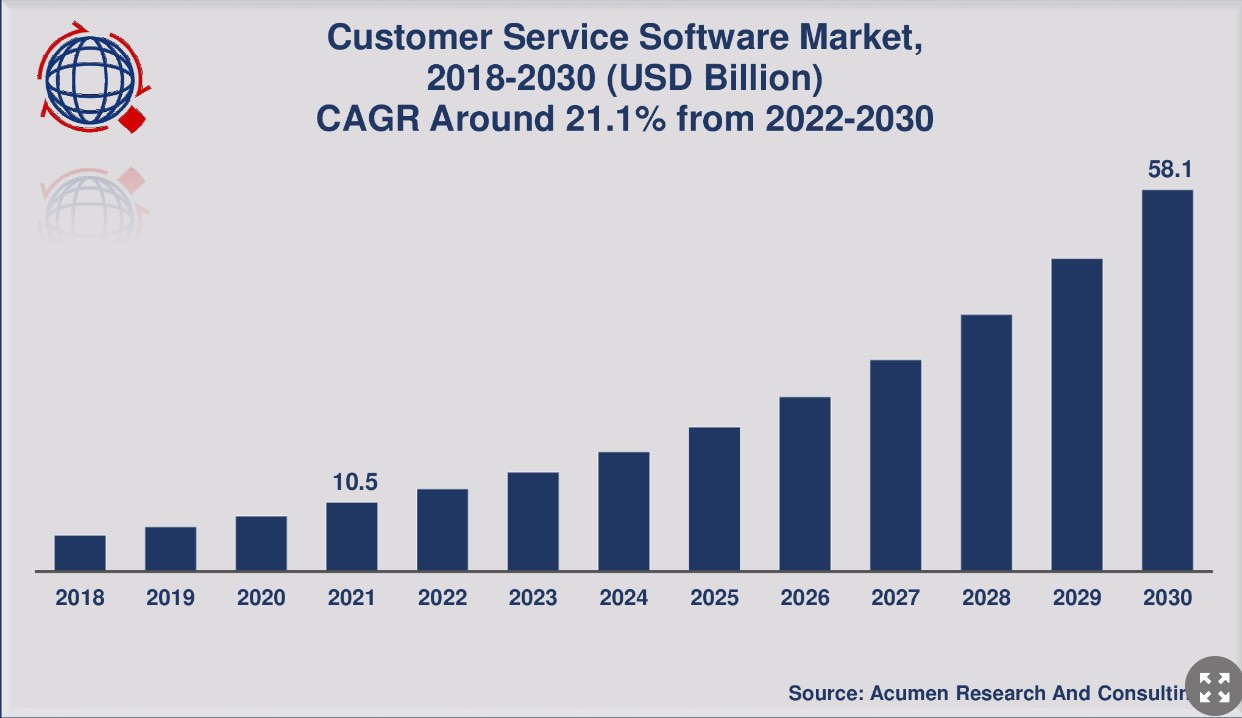 There are several different types of customer service software.

They all help you optimize efficiency and improve the overall customer experience.
Some focus on managing leads and improving sales. Others have features that help businesses resolve customer issues and requests.
Depending on which tool you choose, you can expect to:
Respond quickly and effectively to customer requests
Automate manual tasks
Organize and manage customer interactions in a centralized platform
Better manage data by accessing and analyzing customer information from one central source
Offer support through multiple channels (email, chat, phone, and social media) – which creates a seamless support experience
Assign and track tickets, share information, and collaborate on customer requests
Let's look at how Zendesk and SuperOffice CRM compare.
How Zendesk can help your business
Founded in 2007, Zendesk was born out of the desire for an easier and more efficient way for companies to manage customer service issues.
Zendesk is primarily a help desk software used to manage customer service requests.
Initially a cloud-based help desk solution targeting the SMB market, it has since grown into a US $1B company primarily targeting the enterprise market.
Over the years, Zendesk has become a leader in customer service technology, continually developing and adding new features, functions, and capabilities to their enterprise platform:
Zendesk for Service: This is a customer service platform that helps businesses take care of their customers. It includes tools for self-service, live chat, voice, and email support, so businesses can handle all of their customer questions and problems in one place.
Zendesk for Sales: This is a basic sales CRM tool that helps businesses sell their products and services. It includes features for tracking leads, managing customer information, and automating tasks, so sales teams can work more efficiently and close more deals.
Sunshine Platform: Zendesk Sunshine lets you connect and understand all your customer data – wherever it may live – and use it across your business. Built with Amazon Web Services in the public cloud, your developers have full freedom to design custom apps or services according to your company's specific needs.
While Zendesk started its journey in the help desk space, SuperOffice focused its efforts on Customer Relationship Management (CRM).
How SuperOffice differs from Zendesk
Founded in 1990, SuperOffice helps medium-sized European companies build meaningful business relationships with their customers.
SuperOffice started as an on-premises CRM platform and is now a 100% cloud-based CRM solution.
The company focuses on three areas that matter most in a customer-first business culture:
Marketing – A set of tools used to automate and personalize communication, reach your target audience better, and initiate meaningful conversations that turn into revenue.
Sales – Capabilities that help your sales teams manage pipeline, improve forecasts, and develop profitable customer relationships.
Service – A set of features to help your service and support teams improve the way they handle inquiries and solve customers' problems – no matter whether they come by phone, email, chat, web forms, or social media.
All three customer-facing areas are built on one central CRM platform.
Regardless of which department you're in, everyone in your company has the same shared view of the customer offering improved collaboration, productivity, and business process support.
SuperOffice CRM or Zendesk? 3 factors to consider
Both solutions are a type of customer service software.
So how do you know which one to choose?
No doubt, you've read customer reviews and ratings on sites like G2.
All G2 ratings come from verified user reviews. The answers are then used to calculate an overall product score, as well as performance in specific categories.
Rather than dive into a specific category or features, we will compare SuperOffice CRM and Zendesk on 3 factors:
Ease of doing business
Software usability (ease of use)
Quality of support
All three indicate how easy it will be for you to implement and use the software.
1. Ease of doing business
This score basically answers, "Has the product been a good partner in doing business?"
The number of reviews, the quality of reviews, and overall customer satisfaction of the reviewers, has a bearing on the score.
How do these two platforms compare when it comes to ease of doing business?
SuperOffice CRM received a score of 9.3. Zendesk Suite received a score of 8.5.
The following variables are considered factors that positively impact user satisfaction in the CRM software category:
Contact and account management
Workflow capability
Opportunity and pipeline management
With this information at hand, sales, marketing, and customer service teams can make informed decisions quickly – ultimately leading to successful customer relationships.
The Help Desk category is judged against the following variables:
Workflow
SLA management
Customization
These features help customer service and support teams respond quickly to customer inquiries submitted via multiple channels including email, phone, and social media.
Just like SuperOffice CRM, Zendesk helps your company to create better customer relationships.
What can we conclude so far?
Although the two products belong to the same family, they can't be compared eye to eye. It's like comparing apples to oranges. Sure, they're both fruit, but they're different kinds of fruit (and have different benefits).
Zendesk is loaded with robust features and enterprise-level capabilities, but it comes at a cost – you may be paying for more than what your business needs.
For new and first-time customer service software users, this can be too complex:
"When it first came out, it was an attractive and easy way to affordably deliver great support. We used it for a decade or more for customer service. Over time pricing became more and more complex and expensive. Multiple plans, sometimes with even the same names like "Enterprise" or "Pro" would only get you part of what you needed. We added zen sales to handle basic CRM needs and things only got worse". Franz M. Small Business (50 or fewer employees)
SuperOffice believes in the power of simplicity – making it easy to build strong customer relationships, by simplifying complex processes. This principle is visualized in the software design and usability, the pricing structure, and its way of doing business.
"SuperOffice is a very complete and user-friendly CRM system that supports not only your sales team, but also your marketing and customer care/support teams. The navigation is very intuitive making the learning curve very low."
"SuperOffice staff have exceptional skills in translating business needs into software processes. Aftercare is very fast and helpful." Mathias V., IT Manager, Mid-market (51-1000 employees)
2. Software usability
"Easy-to-use" and "user friendly" are often used interchangeably in SaaS.
Both terms usually refer to a solution that doesn't require much (assisted) learning and are intuitive to use, even for non-technical users.
Ease of use is an important part of the decision-making process.
Sadly, research by Userpilot found that over 50% of SaaS solutions fall in the difficult to use category.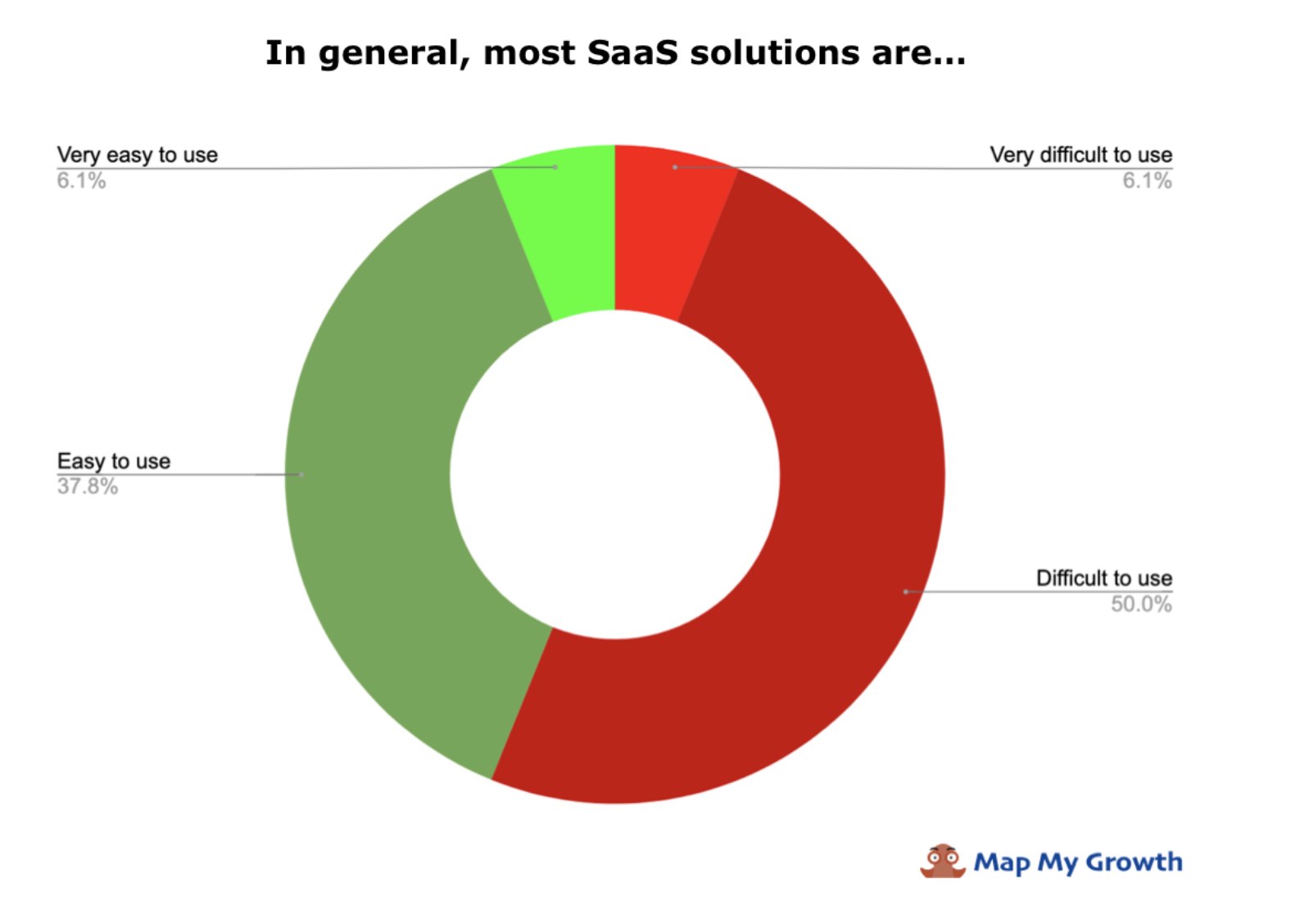 The same study of 98 professionals looking for a B2B SaaS solution found that if a software solution is difficult to use, a business will not use it, even if it has all the features and it's at the right price point.
For usability, G2 includes various factors to determine the overall score:
Overall satisfaction with the set-up and onboarding process
Amount of time (in months) for the CRM system to go live
Ease of adoption for new users
Which platform is considered "easier to use"?
SuperOffice CRM scored 9.1. Zendesk Suite scored 8.5.
Again, the key difference here comes down to simplicity.
Zendesk is a powerful system with lots of features and functionality. But having too many options can affect how fast you'll start seeing positive results.
"Very powerful, but administratively a nightmare to set up and maintain." Verified user in consumer goods, Small business (50 or fewer employees)
"So many failures along the way, almost every day, I receive emails from Zendesk informing me that they have detected that this or that functionality is not working correctly and that they will fix it." Verified user in Financial Services, Mid-market (51-1000 employees)
SuperOffice CRM prides itself on its intuitive interface and helping customers get up and running fast.
"SuperOffice is one of the most user-friendly CRM systems and meets our sales requirements." Mark K, Commercial Director, Mid-market, (51-1000 employees)
"For day-to-day use, retaining customer information whether it is a new sales inquiry or a customer service request, SuperOffice works straight out of the box. Our users are comfortable using the system in-house or from home meaning that we have very little stress in keeping the workflow running smoothly." Leslie S, Managing Director, Small business (50 or fewer employees)
3. Quality of support
Implementing new software can be daunting.
With so many steps involved in the implementation process, you'll want more than just a software vendor.
You'll want a partner who will help you on the path to success!
As part of your research process, ask:
What support services do they offer?
When are they available?
How successful have past customers been at solving issues quickly with their help?
When it comes to quality of support:
SuperOffice CRM scored 8.8. Zendesk Suite scored 8.4.
Zendesk offers professional services, training and online customer service support.
There are three different implementation packages to get you started – growth launch, pro launch and enterprise launch.
If you're a medium-sized company that purchases the Growth or Professional Suite plans, you would probably go with the Pro Launch package.
Priced at $12,000, the Pro Launch package is best suited for teams who need expert guidance configuring Zendesk. This price doesn't include defining goals and KPIs, mapping business processes or ensuring end-user adoption.
If you're an enterprise support team with a more complex case, the price moves up to $30,000.
"Helpful but slow to respond. I do not like that we are a low priority because of the number of licenses. We shouldn't be prioritized that way. We also should be able to have some basic help without paying thousands of dollars each time." Verified user in hospital & healthcare, Small business (50 or fewer employees)
SuperOffice is committed to being your CRM partner from day one, regardless of the subscription you choose.
You can contact SuperOffice's expert support team with any questions during office hours or use their emergency line to solve critical issues.
SuperOffice also provides you with:
"SuperOffice understands our business and what it takes to achieve our goals." Serge V. Commercial Manager, Enterprise (>1,000 employees)
"User friendly software and excellent customer support." Camilla R., EU Sales Director, small business (50 or fewer employees).
Which platform is best for midsized companies?
Zendesk is like the Cadillac of customer service software.
The solution is primarily used as a help desk system, although it has sales CRM capabilities too. However, Zendesk is targeted primarily at enterprise companies.
If you're new to customer service software, the price list and number of products can be confusing and difficult to understand.
SuperOffice believes in the power of simplicity.
Best of all, SuperOffice CRM is targeted towards medium-sized companies based in Europe.
SuperOffice provides a complete CRM solution that includes customer service features, as well as sales and marketing automation capabilities. This allows businesses to manage all aspects of their customer interactions from a single platform.
By gathering and storing data from sales, marketing and service in one place, companies get a real-time window into how best to interact with leads and customers – whether it's for upselling opportunities, improving communication quality or honing marketing campaigns.
Conclusion
Both systems have their own benefits and advantages.
Before you choose one, we recommend you to think through your company's customer experience strategy first:
The answers to these questions will help you decide which system is right for your needs.
Don't get us wrong:
👉 Customer service is important, but it's not the sole focus of a great customer experience.
Customer service is something you give when a problem occurs. Customer experience happens throughout the entire customer journey.
One is an event. The other is a feeling.
Technology brings us closer together than ever before, enabling meaningful and lasting emotional connections.
SuperOffice CRM helps you turn these connections into lasting relationships by leveraging the power of data.
Gain a complete understanding of your customers' needs by tracking every interaction in one convenient location – from sales and marketing efforts to customer service interactions – helping you create personalized experiences at scale.
Ready to learn more?
Book a 30-minute demo with one of our CRM experts today and let us show you how.