You would never hire a carpenter and let him work without his tools, right?
It's not just that it would be dangerous but, it would be really inefficient too!
So why would you hire a customer service representative without using customer service software?
Having good tools can dramatically increase anyone's performance. And yet, I frequently encounter businesses where customer inquiries are being handled using Outlook and a pile of post-it notes.
The most common excuse I hear is that customer service software is considered too expensive, complicated and unnecessary.
But that's simply not true. Let me show you the benefit of purchasing a revenue-changing tool for your employees!
Why You Should Invest in Customer Service Software
Customers are more empowered than ever before. While "the customer is king" might been a company motto for many, it wasn't until the social media revolution that a lot more companies started to take their customer complaints, comments and feedback more seriously.
Why?
It's because one negative experience can be shared with thousands of social media users.
To turn negative experiences into positive ones, you need to start with the right tools. Research by BrandWatch has found that 70% of customers would recommend a brand based on a quick and effective response in social media channels.
Clearly, you cannot check Facebook several times per day just in case someone posts a comment about your brand – And this is where customer service software can help you. You are able to automatically set notifications that alert you when your brand is talked about online.
Another example would be when a customer calls; it would help both the customer and your employees if your agents had access to his/ her information ready at hand.
And this example is even more important than the social media chatter as 79% of customers will call your customer service line compared to email (33%) and web self-service (19%).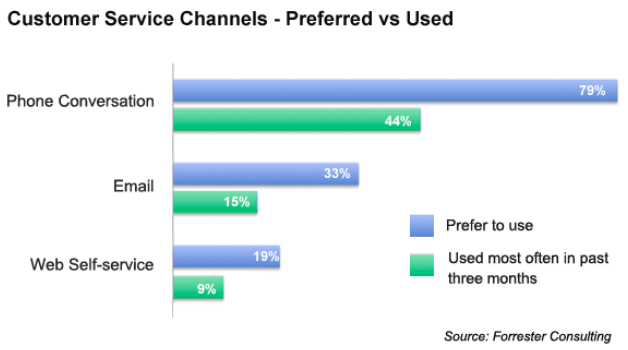 Studies by various market research platforms have found that:
65% of customers want their problem resolved the first time
86% of consumers will pay more for a better customer experience
53% of customers find 3 minutes to be a reasonable response time
50% of consumers give a brand only one week to respond before they stop doing business with them
All of the above can be resolved by using customer service software, which allows you to create work flows, notifications and automatically assigns your agents the most important customer service requests, all without the need for the manual work that would otherwise be required if you continue to use Outlook.
Launching customer service software isn't a difficult process and the benefits impact your entire organization. And don't forget, automatic reporting – If you use Outlook, you're constantly counting the number of emails received and sent per day. Customer service software will give you that data immediately, plus more!
The Cost of Delivering a Better Customer Service
The biggest cost in your customer service budget is most likely personnel costs.
If you want to offer quality service to your customers, you must invest in people with skills and dedication to serve them well. Salaries vary between countries and businesses, but according to indeed.com, the average salary for a Customer Service Representative in 2014 is €33,000 per year.
Depending on your country, you can add some corporate expenses on top of this (benefits, pension funds, employer taxes, etc.). For this discussion, let's simplify and round it up to €10,000.
And unless your employees work from home, you will need to provide office space, a desk, a chair and a coffee dispenser. This doesn't come cheap either, so let's add another €3,000 for this.
Finally, I am certain that your employee will have a computer and some basic software (Microsoft Windows and Office). The computer will last 3-4 years, and you will need people (or providers) who maintain the computer, the printers, the network, help people with forgotten passwords and replace keyboards with spilled coffee in them.
Costs for this will vary, but it will be difficult to get this figure lower than €2,000 per year.
So, in total, your customer service agent will cost €48,000 per year (a conservative estimate).
Yet, the annual cost of a user license for customer service software is less than €1000. That's only 2%!
Simple ROI analysis: Customer service software would be beneficial if it increased performance of 2%, or saved approximately 10 minutes a day per user agent yet we can see that it increases performance by as much as 25%!
(You can read all our testimonials from customers who use SuperOffice to increase performance here).
Customer Service Software helps you keep more customers
There is also another way to look at this. Customer Service is only one section of your company. Most likely, you do a lot of other work as well to get your business going.
In our case, for instance, we have quite a lengthy process before our customers purchase our software. It starts in the R&D department where we do designing, prototyping, developing, testing and finally releasing. These processes alone take many months, and involve a large number of people. This is only to get the product ready.
We then have our sales and marketing departments, which will market the product, nurture the leads, meeting the prospects and finally closing a deal. Anyone with experience will tell you that this can take quite some time as well.
In other words, the amount of work we put down before we get a customer is quite an investment. Normally, it will pay off, because the customer will stay with us for a long time.
During this period, the most important thing we have to do is deliver good customer service. Surveys show that offering good customer service is the most crucial factor to keeping customers loyal. Investing in customer retention, after all the work we did to establish our relationship, is an easy choice.
Compared to your investment in getting new customers, it is relatively cheap to invest in a tool that helps you keep them.
Conclusion
If you are an operative business, you have already made the largest investments required: create a product (or service), and hire people to take care of your customers.
Purchasing a tool that ensures the quality of your service and boosts your team's performance is a rather small investment in comparison, but may have a large positive impact on your revenue.
Not investing in customer service software is just like your carpenter not investing in a hammer. It just doesn't make sense in this day and age.
Have you invested in customer service software? How has it helped your business?
I'm looking forward to the discussions below.